PTCL has offered an upgrade for all its existing EVO users, offering discount up to Rs. 1,000 for the device and 1 month free internet (based on package). This applies to users of both prepaid and postpaid PTCL internet packages whether they are active users or inactive ones.
PTCL Offer
The Evo devices, Rev. A and Rev. B, can be upgraded to better devices. In case of Rev. A Dongle (3.1 Mbps), users can upgrade to Rev. B Wingle (9.3 Mbps) or CharJi (36 Mbps) while Rev. B Wingle users can upgrade to CharJi. The new devices will give a throughput of up to 3 times than their existing devices. Bundle price includes cost of device as well.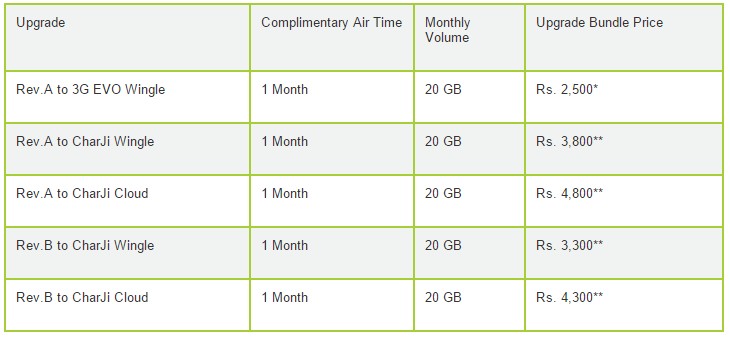 *Standard monthly recurring charges Rs. 1,500 will apply from second month
**Standard monthly recurring charges R. 1,800 will apply from second month
In case of going over data limit, additional 5 GB available at Rs. 500
Procedure
PTCL procedure is different than other companies and upgrade cannot be availed over a simple phone call. Following steps will help to upgrade your EVO device:
1) Visit PTCL OSS (One Stop Shop) with your existing device and request an upgrade.
2) Pay upfront for the upgrade based on bundle selected
3) Know that recurring PTCL broadband rates of Rs. 1,500 (Evo Rev. B) and Rs. 1,800 (CharJi) will apply from second month
4) New device will be issued to the user once old device is returned and payment has been made.