Recently we did a video unboxing and review of the Zong 4G MiFi device which is available on our YouTube channel. This time around we have done a video unboxing and speed test of Mobilink's 3G WiFi device which you can watch below. However this article will be an in-depth review of the device itself
Introduction:
First and foremost Mobilink 3G device comes in a similar packaging as the Zong device as the device is manufactured again by Huawei. Mobilink is selling the device with a default package of 20GB but a 30GB package can also be subscribed for an additional charge.
After purchasing the device you will be given a Mobilink Data SIM which will have to be Biometrically Verified before being used in the device. This can be done at any Mobilink Franchise or Service Center nearby. The box also has the device's features and functions mentioned on the side which are as follows:
HSPA+/HSPA/UMTS/EDGE/GPRS/GSM
Wi-Fi
Five second Fast Boot
Support for Huawei Mobile WiFi App
Plug and Play
Online Software Upgrade
Traffic Statistics
Micro USB Interface
LED Indicators
Unboxing:
Once you open the box you will find a user manual, safety guide and warranty statement at the top and underneath these things the Mobilink 3G WiFi device itself along with a connectivity & charging cable, battery and a wall adapter. It's good to find an enclosed wall adapter in the package because in contrast Zong 4G MiFi device skimps on it. Mobilink 3G Wifi device itself feels like a pebble that's curved and smooth to the touch and feels exceptionally well built and good in the hand. It's in white color that goes easy on the eyes and has an LED based notification strip on the front that notifies you of signal strength, battery level, WiFi reception and  messages. The device is built out of a matte plastic shell that does well to hide smudges and fingerprints.
Setting it up:
After you've got the box open you can install the battery by popping out the rear cover and installing  the provided SIM under it first. After that close the battery cover, and push the power button for a couple of seconds to turn it on. After that you can connect your devices via wifi to the 3G device. Additionally you can connect it to a personal computer to use it as a plug and play internet modem via the provided connectivity cable. Lastly you can also hook up your device to a wall adapter to use it as a primary device and to keep it charged as well when you need to go out and about. A tiny green light keeps blinking to notify you that the Mobilink 3G WiFi device is operational and the battery icon blinks while it's charging.
Data Package/ Data Bundle Activation:
After booting up the Mobilink 3G Wifi device, the first thing to do is to connect your device via WiFi to your smartphone or PC using the provided SSID and password. Once you're connected, visit m.mobilink.com.pk/smart/dongles.html and subscribe the package you need. There are currently two packages available  but we hope Mobilink can add more packages with better pricing in the near future. After subscribing the package you are good to go and can use your device for accessing the internet anytime and anywhere. Following are the details of data bundles that are currently available for subscription:
Mobilink 3G WiFi:
| | | | | |
| --- | --- | --- | --- | --- |
| Bundle Name | Download Limit | Bundle Price | Duration | Device Price |
| Monthly Regular | 20GB* | PKR 1500 | 30 Days | PKR 2900 |
| Monthly Heavy | 30GB + 20GB** | PKR 2000 | 30 Days | PKR 2900 |
*The device comes with PKR 1500 balance to activate package.
**Additional 20GB for first month for a limited time period.
Mobilink 3G Wingle/Dongle:
| | | | | |
| --- | --- | --- | --- | --- |
| Bundle Name | Download Limit | Bundle Price | Duration | Device Price |
| Monthly Regular | 20GB* | PKR 1500 | 30 Days | PKR 2500 |
| Monthly Heavy | 30GB + 20GB** | PKR 2000 | 30 Days | PKR 250 |
**The device comes with PKR 1500 balance to activate package.
**Additional 20GB for first month for a limited time period.
How to check usage:
To check your data consumption the best and easiest way is to install the Huawei Hi-Link app from your respective application repository on Android or iOS. With the said application, you can easily track your usage in real time along with setting a threshold limit and checking  remaining battery level of the Mobilink 3G WiFi device.


Mobilink 3G WiFi device settings:
By entering 192.168.8.1 in your browser you can access Mobilink device settings. Once you enter your ID & password you will land at the device home page where you can see battery charging status, SMS, your SIM number and balance, your current session usage and signal strength. By clicking the Statistics tab you can check your monthly usage and total data allotted for the month. Under the Settings tab you can change your WiFi SSID and password and activate WiFi extender mode. By clicking the settings tab you can subscribe to a new package.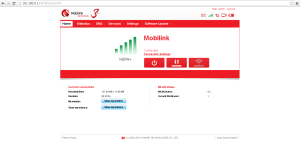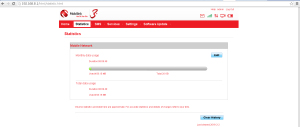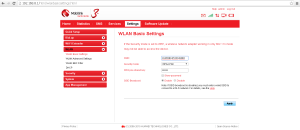 Performance:
Mobilink 3G WiFi device has about 10m of WiFi range and around 6 hours of battery life from a fully juiced up battery. The device can support upto 10 devices at a single time however the recommended number of devices is 2-3 because the more devices connected the lesser battery life you will get.
We should mention a couple of things here first the device has these indicators on the top  are a bit misleading as they don't show the actual signal reception or battery level but instead change their colors to orange and red as the level goes down. Hence you should not rely on these all the time for signal and battery levels.
Coming to the actual speed testing, The Mobilink internet device gave us satisfactory results at our workplace In the Tariq Rd area but was not excellent as the speed was average for a 3G connection and we were expecting a wee bit better result however it's a decent show. We will add the screenshots from various areas to let our readers get an idea of how the Mobilink 3G WiFi device performs in various locations of the city.

Tariq Rd
How to order?
Mobilink 3G MiFi device can be ordered from SmartChoice.PK for PKR 2900 with Free home delivery and Cash on delivery across Karachi, Lahore and Islamabad. Mobilink 3G device price includes a Data SIM with free balance to activate 20GB Monthly regular bundle.
Additionally Mobilink 3G Dongle is also available as well which only has a difference of being plug and play and not having battery. The 3G device is priced at PKR 2500. The available Mobilink 3G internet packages are the same for Wingle/Dongle and MiFi device as listed below:
Order Mobilink 3G WiFi with 20GB Monthly Regular bundle
Order Mobilink 3G Wingle/Dongle with 20GB Monthly Regular bundle
We hope that in the coming future the telco introduces new Mobilink internet packages in both Mobilink WiFi and Mobilink Dongle devices with better pricing as well and gives better/consistent quality of service and best speeds on Mobilink 3G packages and this could surely become a good contender in the Mobile Broadband market.