Travel Insurance in Pakistan is mandatory for travel to Europe, study trips etc. while for tours and travel within Pakistan and to other countries travel Insurance offers many benefits which can reduce the travel hassle and curtail which is quite common in our country.
There are multiple Insurance packages offered which are best for travel within Pakistan and abroad, The international travel insurance gives coverage that travels wherever you go, be it medical care, trip interruption or emergency travel services.
Smartchoice.pk has top insurance providers on its panel which has covered millions of travellers throughout Pakistan. It has all the leading providers with multiple customized plans for ziyarat, students, Schengen and worldwide trips. Coverage provided through Smartchoice.pk is easy to buy just log in at www.smartchoice.pk, select your plan to send us the payment for premium and the Insurance will be immediately sent to you by email. This insurance is verifiable by embassies, yourself and hospitals abroad.
Insurance Plans
The plans that are currently being offered at Smartchoice.pk for travellers in Pakistan, these insurance plans are being provided by Jubilee, Adamjee, UIC, Habib and other major Insurance companies. Following are the details of all the plans and coverage we offer through our platform.
Schengen Insurance Plans
This is for International travel from Pakistan to Schengen countries, as it is required by the visa application. The policy offers health and other travel benefits that make your trip hassle-free and provides protection.
Following are the rates for the Insurance You can buy these plans online by depositing the premium in our account, or by ordering policy through cash on delivery. All Insurance policies are sent electronically and are verifiable by the Schengen countries Embassies and Insurance companies.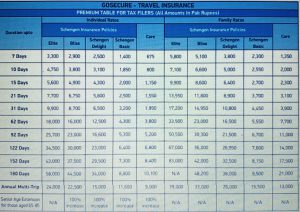 This Insurance offers the following benefits for holders all amounts in US Dollars, ass required 30,000 Euros that is $50,000.
Premium or the cost of the policy per person in Pakistan rupees
All Terms, Conditions & Exclusions are as per Adamjee Insurance. The family consists of a spouse and a maximum of 4 children within an age limit of 18 years. Schengen Family Individual Age Limit 1-65 Age Limit 66-85 Individual Maximum stay limit for Multi-trip packages (365 days package) is 92 days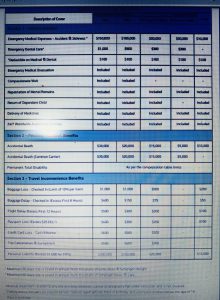 Key features of the policy
Personal Accident – covers death and permanent disablement.
Medical & Sickness Expenses – covers hospitalization expenses for accident or illness, including In-Hospital and Out-Patient (OPD) expenses.
Loss of checked baggage – covers total and complete loss of baggage checked in by an international airline.
Delay of checked baggage – covers the cost of emergency purchase of replacement items.
Loss of passport – covers reasonable and necessary expenses to obtain a duplicate passport or a valid travel document.
Personal liability – covers legal liability attaching in a private capacity during the course of overseas travel.
Cash Less Service – Direct settlement for in-hospital medical expenses abroad (only for Schengen Countries).
Student Guard/Protection (Insurance for Students)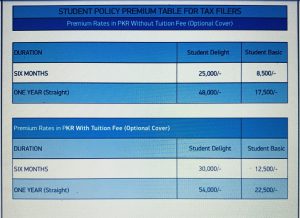 The Student Guard is a policy created for Pakistani students studying abroad. The benefits of this policy Include, Medical expenses for Accident / Sickness while abroad, Personal Accident during the studies either on-road or at campus, Criminal Assault (Serious attack by someone) Medical Evacuation (Transportation in case of medical emergency, Emergency Family Travel, Death Repatriation, Baggage Loss, 24-Hour Assistance, Tuition Assurance in case of any emergency)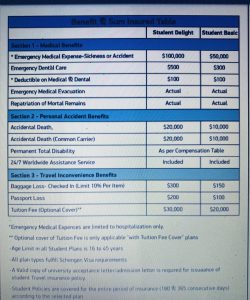 Hajj, Umrah & Ziarat The Democratic Nomination Process: The Electoral College on Steroids buy testosterone suspension herantis pharma – news & events Insurance plans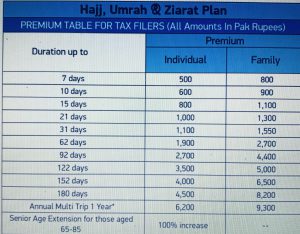 Travelling for Pilgrimage should only be about focusing on the Holy activities and your trip should be free of the worldly worries. Get travel insurance and transfer your risks and let the insurance company take care of your trip-related worries.
Key Features
These premiums are inclusive of Admin surcharge, government taxes and levies and stamp duty. Maximum stay depicts the total number of days starting from the time of departure from your home city in Pakistan for KSA up-till the time of arrival in Pakistan on return from your Hajj/Umrah trip from KSA.
To avail our Hajj &Umrah Plan, you may visit our Website www.Smartchoice.pk or call us at 03111-276278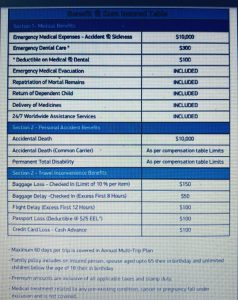 Domestic Safeguard (Travel Insurance For travel within Pakistan)
With Domestic travel insurance through Smartchoice.pk, you'll have coverage that travels wherever you travel within Pakistan. Whether you need coverage for accidental medical care, trip interruption or insure your house in your absence, the domestic travel insurance is there for you.
Travel Insurance for Domestic Passengers is important and vital because risk can materialize anywhere while travelling since there are many risks to face risks when also travelling within Pakistan. Domestic travel insurance is an affordable Travel Insurance which is easy to buy and provides you with a peace of mind so that you continue your journey without the troubles.
Smartchoice.pk via Insurance provides travellers with numerous coverage options. Whether it's a trip for one week or a month, we have a product that fits your travel needs.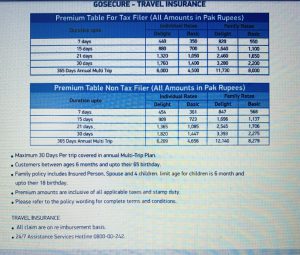 Customers between the ages 1 year  to 85 years are covered
The family option includes Insured Person, Spouse and 4 children. The maximum age for children covered is 18 years.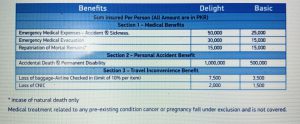 Please refer to Terms & Conditions of the policy if you want to know more details.
World-Wide Travel Protection Plan
The worldwide travel insurance plans include all the countries in the world you wish to travel too, this plan is designed keeping in view the need for securing your risks in any part of the world, to cater that you can simply buy travel insurance for the USA, Canada, Japan, China etc. by following few simple steps that would guard you against any mishap or financial loss.
Annual Multi-trips Coverage
If you are a frequent traveller for either work or leisure and you have to stay no more than sixty days on one trip, then this annual multi-coverage is the best option for you.
First, it helps you save money on travel insurance as buying it every time before you travel you don't have to procure insurance, second it would save your hassle and there would be one less thing on your list of to-do or things-to-get before you travel.
The multi-trip plan also has the same coverage and benefits aforementioned in the article, so just log-in www.Smartchoice.pk and resolve all your travel needs.