The attraction of people to visit the UK has never been less; the UK makes it to the Wish list/travel bucket list of every travel enthusiasts. It is a country with rich culture and traditions and has a long history, plus it has always the epi-centre of socio-economic development creating the path that other countries have been following for their development.
The UK has been a major force in global youth culture since the heyday of the Beatles and Rolling Stones in the 1960s. It has a rich literary heritage encompassing the works of English writers such as William Shakespeare and Charles Dickens, Scot Robert Burns, Welshman Dylan Thomas, and Northern Irishman Seamus Heaney, not to mention writers in the Gaelic and Welsh languages.
The United Kingdom is a state made up of the historic countries of England, Wales and Scotland, as well as Northern Ireland. It is known as the home of both modern parliamentary democracy and the Industrial Revolution.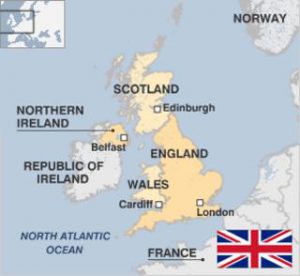 Two world wars and the end of empire diminished its role in the 20th century, and the 2016 referendum vote to leave the European Union has raised significant questions about the country's global role.
Her Majesty Queen Elizabeth II ascended to the throne of the United Kingdom of Great Britain and Northern Ireland in 1952 upon the death of her father, George VI.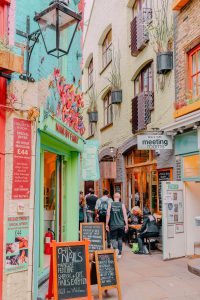 In September 2015, she became Britain's longest-reigning monarch, surpassing the record of her great-great-grandmother, Queen Victoria. She is also head of state of 16 independent countries including Canada and Australia. As a constitutional monarch, her role in the legislative process is largely ceremonial. (Source: BBC)
The UK is a famous destination for Pakistani visitors, due to its beautiful and colourful culture, which attracts tourists from all over the world. There are more than a million Pakistanis living in the United Kingdom, and the relatives in Pakistan want to visit them as well.
Britain was the world's first industrialized country. Its economy remains one of the largest, but it has for many years been based on service industries rather than on manufacturing.
The UK economy is divided into all these segments; Agriculture, forestry, and fishing, Agriculture, Forestry, Fishing, Resources and power, Minerals, Energy, Manufacturing, Finance, Trade, Services, Labor and taxation, Transportation and telecommunications.
Basic Information about the UK
Currency: Pound Sterling (GBP)
Visa: When travelling to the UK, a visa is generally not required for stays of up to six months. This applies to all EU citizens and citizens from non-EU member states of the EEA and OCT. Most Asian citizens will have to apply for a visa ahead of time and can stay in the country for six months maximum. If you're unsure, it's always best to check your visa validity beforehand. If you're planning to stay longer than the six months, you will need to apply for a study, work or another visa.
Safety: The UK is a very safe country to travel to. With a relatively low violent crime rate and lower petty theft rate than a lot of the other main European cities, the same advice is given to tourists to just be aware of your surroundings and extra vigilant in crowds where pickpockets are more prevalent.
One factor that could be considered a risk to tourists is traffic. As people in the UK drive on the left side of the road, tourists often forget to cross safely so are more prone to road accidents. No matter how safe a place is, the travellers to get travel insurance.
You can buy travel insurance from Smartchoice.pk, it has multiple insurance providers available at its platform through which you can buy an insurance plan as per your need and requirement.
Language: With English being the main language spoken in the entirety of the UK, tourists shouldn't have any issues with communicating wherever they travel in the country. The only thing to swallow is that the UK has a diverse range of accents which can make understanding everything a little trick! Areas with strong accents, in particular, are Scotland, Wales, Northern Ireland, Liverpool and the West Country.
When to Plan the Trip
You can visit the UK at any time of the year but avoiding the wet and cold months makes for a better experience (unless you're a winter sports enthusiast!). Best Time to Go: May to September (All of the UK is in summer which would ensure that you would enjoy your whole trip to the fullest)
In a nutshell, the weather in the UK can be broken down into three parts: Cold and Rainy (Dec-Feb), Cool with a mix of sun and rain (April–May, mid-Sep-Oct) and Hot and Sunny (Jun-Aug)
Rough Budget/Money to Carry
The UK isn't one of the cheapest countries on the European continent to travel around but it is possible to budget for as low as £50 ($65) per day, providing that you stay in a hostel, self-cater for the majority of the time and use public transport. You will find that accommodation and transport will take a chunk out of your budget so plan accordingly and prioritize! For a guide to different types of travel, here is a rough break down of costs: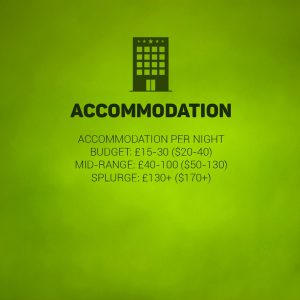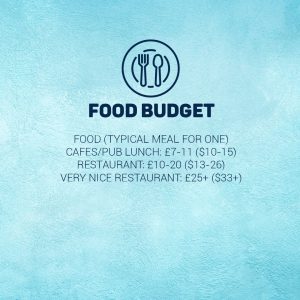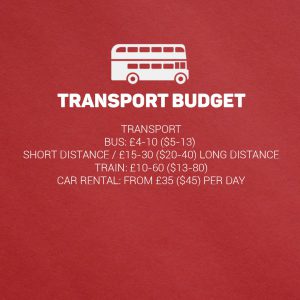 Your Ideal Suitcase
Like the rest of Europe, you will need a variety of clothes to suit all weather conditions when you visit the UK. No matter the season, make sure to pack a few of both types of clothing to be prepared for both rain and sun, plus a raincoat which is a must and always pack things keeping in mind that having an extra clothing layer can be needed anytime when packing for the UK.
Must visit/Explore in the UK
Explore Vibrant and Pulsating London
The bustling Capital city has to be at the top of your list of things to do in the UK, even if you're budget won't allow it! With a plethora of history and culture all wrapped up in this beguiling place, you could spend days wandering the streets, discovering the local markets and parks, and absorbing the life of the city by visiting the famous museums eg: Museum of London, the British history museum, National history museum etc.
While you're here, don't forget to see the official changing of the guards at Buckingham Palace, visit the Tower of London, and check out one of the many local pubs and restaurants for a delicious British meal.
If you fancy doing a few adventurous things while you're in the capital city, why not try ice climbing, stand up paddling, or going on an exciting speedboat ride down the River Thames enjoying the cold splashes on the channel.
Explore Scotland
You can't get a proper idea of the melting pot of British cultures without visiting Scotland. The UK's most northernmost country, Scotland is full of natural beauty from its impressive glacial glens (valleys) to its bewildering lochs (lakes), it is home to ancient castles, the highest UK peak (Ben Nevis) and mythical monsters. As well as the stunning Scottish Highlands, Scotland also boasts two major cities: medieval Edinburgh and cultural Glasgow both them being a jewel in the crown of the UK.
An Outdoor enthusiast's Heaven
For outdoor enthusiasts, the beautiful Lake District is something that cannot be missed. Located in Northern England, this stunning destination is the perfect place for hiking in the mountains, cycling through the forest or sailing on the lakes. Although crowded during the summer, A perfect weather makes for a truly magical visit.
Visit delightful Southern England
The South of England is a charming and quaint place and the better weather makes for a better time too! From the rolling hills and small fishing towns of Cornwall to the bustling port cities of Southampton and Portsmouth, you can be sure that you will soak in all the best aspects of British culture whilst also enjoying some of the best views!
You will also find the luscious New Forest and the chilled Isle of Wight in the South, which likes the rest of the region, offers stunning nature and some of the best foods.
Discover the Beauty of the Gower
An under-appreciated region of Wales, the Gower is a hidden jewel just waiting to be discovered. With some truly amazing surf surrounded by beautiful gently sloping sand dunes and hills, this place is an adventurer's paradise. A perfect location to enjoy a quiet and charming Welsh countryside, the Gower also isn't far from the coastal city of Swansea.
Festivals and Celebrations
England is known for its festivals, so if you can plan your travels around some of the biggest such as the Glastonbury Festival, then you'll be in for a treat! If you love music and wandering around a muddy field, then you need to experience a true British festival in all its glory.
Feasts to Enjoy
Due to the temperamental (and often cold!) weather in the UK, the food reflects what the British people want in those times: warm, comforting, and hearty grub! Bringing a whole new meaning to comfort eating, these classic dishes have now become increasingly popular and are widely eaten throughout the whole of the country.
To get your hands and taste buds on some of the best, here are a few traditional dishes you need to try:
Fish and Chips
The most popular British meal and a staple diet for a Friday night is the much-loved fish and chips! You will find this delicious dish in almost every pub and restaurant and, of course, fish and chip shop, so don't leave without trying it with a lot of salt and vinegar.
Roast Dinner
A long-standing tradition for a Sunday is the classic roast dinner. Also known as Sunday Dinner or Sunday Roast, you will see this in every pub and restaurant on a Sunday for those people who want to venture out for their hearty fix. With a plate full of meat, stacked with vegetables and potatoes, and smothered in gravy, you can be sure that you will never forget your first and after trying the yummy treat rest assured it won't be your last.
Full English breakfast
Yes, the warmth and heartiness begin at breakfast too! Wherever you are in the UK, imagine your plate piled with greasy goodness comprised of, eggs of different kinds (sunny side up, scrambled or an omelette) beans, toast, hash browns, tomatoes, fresh jams, butter, delicious cream and more!
Steak and Apple Pie
Another British favourite is belly-warming steak and ale pie. With a crispy and flaky exterior packed full of meat, cheese, and Guinness, this generous dish is the food equivalent of a cosy blanket and a warm cosy candlelit room.
Chicken Tikka Masala
It is available in Glasgow, this creamy Indian dish is always packed with flavour and served with a bowl of savory rice and mouthwatering garlic naan bread. You can find this in every Indian and every pub and you can be sure it will be amazing!
Bangers and Mash
There is nothing like a 'stodgy' meal like sausages and creamy mash to warm your insides and give you that truly satisfied smile! Although one of the simplest meals to make, you won't be disappointed with this dish whether at a pub or at a local's home. In fact, you will definitely be going up for seconds!
Where to Stay!
Accommodation can be quite expensive in the UK, especially if it's last-minute, but there are plenty of options to choose from. From couch surfing and camping all over to hostels, BnBs, hotels and AirBnBs, you will always be able to find a place to stay whether in the city or countryside. Talking about the countryside, if you're heading to the Lake District (and we highly recommend that you do.
If you're travelling during peak season or holidays, it is best to book your accommodations in advance. We recommend checking sites like Booking.com, Agoda, or Hostel World, trip advisor etc. to get smart and easy access to good lodging and accommodation.
UK Visa Requirement for Pakistani Passport Holders & Citizens:
Visa Requirements
The visa process is done online, means you have to fill the forms online and provide the supporting documents in person at the UK Visa Application centre Karachi, Lahore, Islamabad and Mirpur. The biometric is required for all applicants, and additional charges will be paid by the applicant for the biometric and visa processing by UK Visa Application Center.
Visit the UK government website for visas and immigration in Pakistan and apply for a visa online at AccessUK:
https://www.vfsglobal.co.uk/pk/en/how-to-apply
Original passport with at least six months validity and must have one blank page. Copies of all old/expired passports.
1 photocopy of the front page of the current passport
Photo Copy of Nadra issued CNIC
2 current photos, not more than 6-month-old as per UKBA standards
Evidence of arrangements made. Such as tour details/flight details/letter of
Invitation/evidence of the sponsor's immigration status in the UK
Letter of your employment, which should include your salary, position, date hired, and the approved leaves dates should be mentioned clearly. If you are dependent.
(Housewife, student or child) then give the evidence of husband or father's employment.
Evidence of the employment and all income stated on the application form. Such as: letter from employer / payslips / tax returns / business registration documents / business bank account statements.
Evidence of being in education (where applicable)
Evidence of qualifications obtained
Evidence of the monthly income stated on the application form. Such as: Bank statements / bank books / bank letter / balance certificate / tax returns / crop receipts
Evidence of ability to meet costs of the trip, as stated on the application form. Such as the bank.
statements of the person paying for the trip.
Evidence of assets like property or land. Such as: Property deed / mortgage statements  tenancy agreements / accountant's letters / land registration documents.
Evidence of UK accommodation and travel details such as hotel booking confirmation /
travel booking confirmation / travel agent confirmation /sponsor accommodation details.
Evidence of your marital status, such as marriage certificate / civil partnership certificate/divorce certificate/death certificate.
Evidence of family members remaining in your home country whilst you travel
Any other documentation. Such as evidence of any correspondence/ TB certificate
Children under the age of 16 who are travelling alone must provide the consent of both parents. If there is a minor with the subject of the custody order, evidence of custody and the other parent's consent must also be provided. If only one parent is travelling with a minor child, a letter of consent from the other parent allowing the child to travel is required.
Copy of "B" form-Nadra- computerized (in case of travelling with children)
Nadra Marriage form in English (in case of travelling with wife or husband)
Bank Statement of the last 6 months
Air ticket reservation Print out
Hotel Reservation Or If you have an invitation from a sponsor, then the following documents are required along with it: Copy of Passport of the sponsor, Bank Statement of the sponsor of the last 6 months.
Any other documentation/information showing your ties to Pakistan, like property documents, any wealth certificates etc
Few Pro-Tips:
Electricity Socket: 230V AC electricity. Power outlets are usually three rectangular prongs. To avoid having to purchase new adaptors everywhere you go, be sure to pack a universal travel adaptor with you so you can still use all your electronic gadgets.
If you want to take a ride on the London Eye, it can be included with the stops you make in and around Big Ben.
Windsor Castle and Hampton Court Palace are both included with the London Pass. Get Fast Track Entry at Hampton Court!