Asia is the worlds largest and the most populous continent, home to 48 countries. While some of Asia's nations, including Japan and Singapore, are known for being pretty expensive and top most travel destinations to travel, there are those at the other end of the spectrum that offer terrific opportunities for budget travellers to explore for less. There are destinations around Asia where you'll get more experiences and adventure for your money.
People travel for many different reasons, among them, experiencing life, submerging into a different culture, eating some great food and scenic sights. The countries of Asia will fulfil all your anticipations in this regard. From the beaches of Indonesia and Thailand to the Himalayas of Bhutan and Mountain ranges of Nepal and the jungles of Malaysia, you'll find spectacularly beautiful marvels of nature.
Asia offers not just beauty or pretty scenery. It also provides you glimpses of history and traditions, a traditional tea ceremony in China, gleaming white mosques and Mazaars in Iran, traditional ethnic dances and festivals in Vietnam, religious temples in Thailand or a royal palace in India is just an overview of the most beautiful countries in Asia.
Indonesia


With more than 17,000 islands making up the country, finding a few gorgeous and secluded beaches in Indonesia should be a very pleasing task. Everywhere you look, you would find oceans and more than a few mountains.
Top scenic sites include fishing villages, Dieng Plateau in central Java with its multi-colored lake and Hindu temples, west Sumatra's Lake Maninjau with break taking views on a twisty winding road that will take your breath away and would make you want to stay there forever, and Komodo Island, home to the prehistoric Komodo dragon. Bali is the favourite tourist place to visit with its famous rice terraces and stunning beaches it's amongst the top choice for vacation.
Things to keep in mind before travelling to Indonesia is that while travelling you should remember that it's a Muslim majority country and people cannot behave in the same manner as they do in Bali, be aware to keep your knees and shoulders covered out of respect for the local culture. Get yourself vaccinated pre-tip as the facilities used by the locals may not be very comfortable for you. Use a mosquito repellant and sunscreen as being a tropical island there is a lot of sun and mosquito waiting for you to get out there.
Don't be fooled by the currency, as the Indonesian Rupiah has one of the lowest value in the world, be sure to check when paying at a restaurant, or anywhere so just be sure not to be fooled by an added 0 on the bill, which can easily happen if you're not sure to such large numbers.
By far the most popular place in Indonesia is the island of Bali. You can find anything you can imagine on this island, from white beaches to black beaches, from luxurious resorts to basic wooden shacks. it's only a tiny tiny part of Indonesia, many other amazing and beautiful places in Indonesia are exotic for instance West of Bali lies the most populated island Java, home to the capital city Jakarta and the culturally rich area around Yogyakarta with many beautiful temples etc.
Bhutan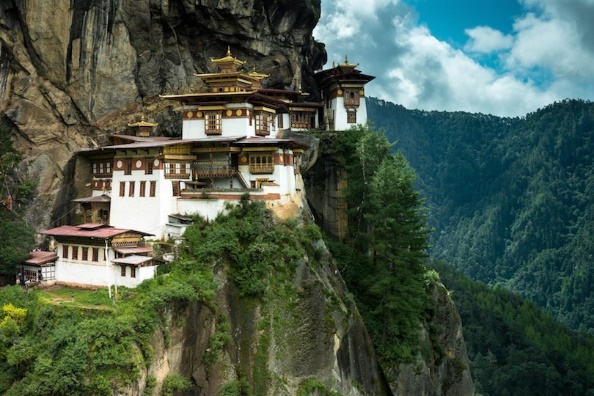 Bhutan is a breathtakingly beautiful country surrounded by mountains such as the Himalayas that ring the tiny kingdom of Bhutan. The architecture with amazing engineered buildings clinging to the mountainsides, being one of the happiest countries in the world it is home to some top scenic sights which include Paro valley, with its red-roofed temples. The two-hour drive from Paro Chelala Pass, you can see some grazing yaks in the field. Or you can visit Chockor Valley, aka the mini Switzerland of Asia, visiting the pilgrimage sites on the way.
Except for Indians, Bangladeshis, and Maldivians, all other nationalities require a visa to enter Bhutan. You can apply for your visa clearance via tour operator before travelling to Bhutan.
Flights to Bhutan are weather dependent which means any up or down in the weather may lead to its delay, All take-offs and landings at Paro Airport are by visual flight rules, which means pilots can only take off or land if they can see the runway and surrounding hills. Remember to keep a few necessities in your cabin check baggage for any unforeseen emergency.
To avoid further inconvenience get travel insurance that covers delayed departure and loss of baggage as well because If you're flying internationally and require a connecting flight to Paro, your luggage will not be checked in to Paro via your first flight. You will need to recheck your luggage at the counter before you catch a connecting flight. Which can increase the chances to you losing your luggage or arriving late may drain all your excitement, so always think about these tiny important details and remember to get insured before embarking on your journey.
A dzong is an ancient fortress with towers, courtyards, temples and administrative offices. Before entering a dzong you need to dress appropriately. Travellers aren't expected to wear the traditional gho or kira, ( their traditional dress) but you should cover your arms and legs with long-sleeved clothing.
Constructed in 1692, the Tiger's Nest is a sacred Buddhist site at 10,000ft (3,000m) above sea level, perched on the side of a cliff. To hike there to satisfy your inner adventurous beings make sure to wear sturdy hiking boots and use hiking poles to give your knees extra support on the ascent and descent. Drink lots of water before and during the hike to stay hydrated, and remember to bring cash if you plan to have lunch at the cafeteria when you reach the Tiger's Nest.
You can only travel in Bhutan with a registered guide, some of you might hate the idea of it but imagine in a remote place like Bhutan the guide helps you to connect with the place with locals along the way is essential to understanding this alluring destination.
Bhutanese love the chillies, so all their dishes are loaded with spices and chillies, for instance, the most famous dish is ema datshi, rice and spicy chillies topped off with a delicious cheese sauce. Kewa datshi is made up of sliced potatoes and cheese, usually with chillies, too. Try shakam paa, dried beef cooked with chillies and radish.
Explore unexplored eastern Bhutan, it is rarely visited by travellers, and there is much to see on this side of the country. Discover secluded valleys and nature reserves, eastern Bhutan is home to the very rare black-necked cranes. Local festivals in this region will provide an authentic experience of the local culture, far different from the touristy festivals that occur in and around Paro.
Fun Fact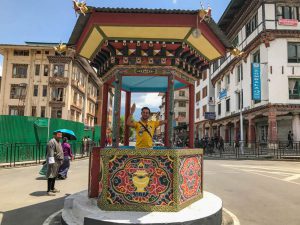 Did you know that Thimphu is the only capital city in the world with no traffic lights? It only has a few traffic police stands.
Iran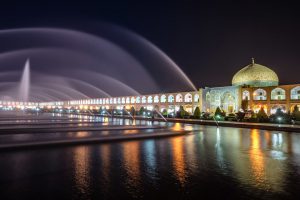 Iran is such an incredible country to travel. The friendliness of the people will make you feel so welcomed that it would leave you speechless, the culture is fascinating and the landscapes are out of this world.
Iran is re-emerging as a tourist hot spot, due in part to the beautiful things you'll see there as the grandeur of beautiful mosques and palaces but also the magnificent natural beauty. One pretty place is Badab-e Surt, natural hot springs in northern Iran. Iran also has many beautiful formal gardens, including the historic Eram Gardens in Shiraz with its gorgeous reflecting pool. Don't forget the Maranjab Desert where sunsets give new meaning to "spectacular."
Some of the things to keep in mind before going to Iran would be kept in mind that being a religious country both men and women need to keep themselves covered for instance women need to cover their heads at all times in public, wear baggy clothes etc. Men need to wear full pants in public no shorts…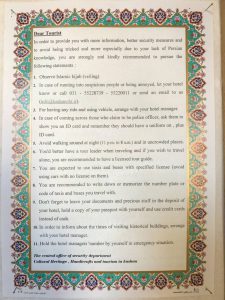 Don't forget your cash when visiting Iran, as none of the ATMs in the country accepts foreign credit or debit cards thanks to the embargo. So if you forget to bring all of your cash for your entire trip, you're out of luck.
UPDATE: If you'd prefer not to carry all your cash with you, can pre-order a local Iranian debit card from any company that offers the service. It works just like a normal debit card in your home country.
The Iranian currency has two names "Rial" and "Tomam" as 1 PKR equates to 269 Iranian Rial, one Tomam Equal to 10 Rials means 1PKR is 26.9 Tomam in Iran try to get the hang of it.
Persian food is varied and delicious, and there are plenty of different styles to try, so be adventurous. The falafel sandwiches are cheap, filling and delicious, but there's plenty more to Iranian cuisine then just kebabs so be sure to try what its exotic cuisine has to offer.
You won't be granted a visa without valid travel insurance. While you can technically buy insurance at the airport, you'll have to stand in another line to do so. This is why before travelling check Iran travel insurance at Smartchoice.pk. It's valid for Iran and it's reliable.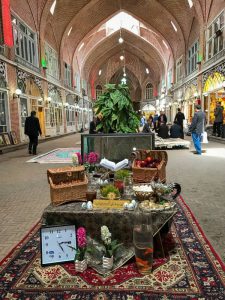 Bazaars play a huge part in Iran's day-to-day life and you can find them pretty much in every city and small town. The largest bazaar in the world (UNESCO World Heritage Site) is in Tabriz. You can find handicrafts, carpets and other beautiful things to carry as a souvenir or gift it to your loved ones.
If you don't want to shop, don't skip the markets as they're usually beautiful even to wander around. With high ceilings and mosaics, you can walk around for a while admiring the architecture.
Philippines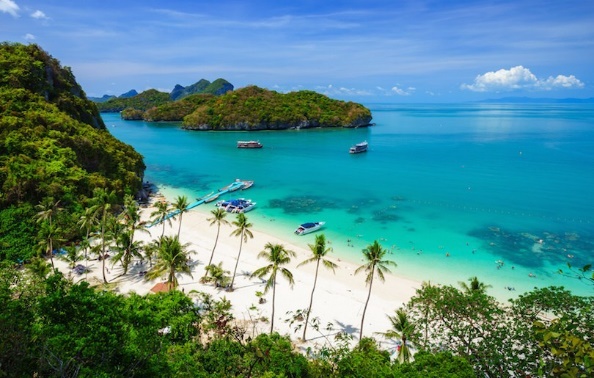 A gem of the East Asian countries, Philippines is home to some world's most glamorous and colourful sites mother nature has to offer, starting from The stunning sights above and under the sea, the culture, the hospitality, the food, and of course, the friendly people willing to welcome visitors wherever and whenever.
Starting from Apo Island, a tiny island in Negros province is known as the best marine sanctuary in the world. Apart from 100's of corals, starfish and colourful species of fish, including the names, you also come across some giant sea tortoise.
The sustainable marine and coastal tourism are practised in the Philippines keeping the environment in perspective is a model that can be adopted anywhere in the world. You can swim within the sharks in Lozun island a once in a lifetime experience one can come across.
The beaches in the country are the one to die for as every picture clicked looks directly from the travel magazine, "A pure Heaven" some of them are Palawan, Panglao, Nacpan are among the world's top beaches, so the brochures you see when you travel are 100% real.
Some things to know before you pack your bags for the Philippines is that many of us want to experience ferries but these ferries are weather dependent If you plan on visiting the Philippines during the wet season (June through October) you may encounter a stretch of bad weather. And if you're counting on taking any ferries, say from El Nido to Coron, they won't run if a storm is on the horizon.
So plan it wisely keeping the weather in check. However, the best time to visit the Philippines is during the dry season which is from the months of November to April. This time of the month in the country is when most of its tourist attractions are accessible. However, this time of the month, the temperature is very hot.
There are more than 170 languages and dialects spoken in the country, but two of them are considered the official language: English and Tagalog. Most Filipinos understand English since it is widely spoken and used all over the Philippines. So communication is not an issue in the Philippines.
You'll Ride Around in Tricycles, not Taxis Tricycles are essentially sidecars for motorbikes. They take on different forms depending on where you are but they are the common way to travel in most of the smaller towns. You'll undoubtedly ride in one at least once while visiting the Philippines.
They aren't exactly comfortable to ride so if you want to travel long distances you should rent a motorbike or hiring a car with a driver. And be sure to negotiate the price before agreeing to the ride.
Coconut juice can be your go-to-drink while visiting the island it starts from as low as 30PKR anywhere and everywhere in the Philippines, most are located in the markets of the Philippines and touristic areas. So enjoy your dose to revitalization in the Filipino heat with coconut water.
Nepal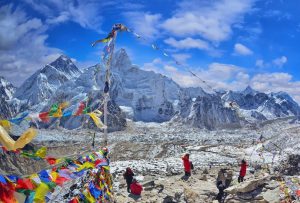 Beauty takes on many faces when it comes to the mountainous country of Nepal, considered one of the most scenic countries on earth. Colourful prayer flags blowing in the breeze is but one of the awesome sights you'll find here. Since it's nestled in the Himalayas, landlocked Nepal has majestic mountain scenery, from snow-covered peaks to the valleys below. Bring your hiking boots so you can get up close and personal with nature here, from the stunning waterfalls to the forests that are rich in biodiversity.
Nepal offers an amazing cultural exposure and suffices the idiom saying " A thing of beauty is a joy forever" things to keep in mind before you plan out your itinerary is to make sure that you travel beyond Katmandu, Pokhara is an amazing place outside Katmandu a stunningly beautiful place somewhere between heaven and Earth.
The difference in tourist vs local price


Every place has its stereotypical foods, for instance, France has croissants, China has dim sum, Italy has gelato, and Nepal has Momos. Well, they're little round dumplings with filling inside, such meat, veggies, or paneer cheese.
The most popular times to go trekking in Nepal is February through May, and September through October, when the weather is clear and there are pleasant temperatures.
Did you know? #funfact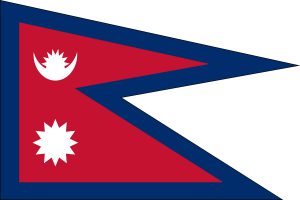 Nepal's flag is the only flag that is not rectangular or square! The two rectangles symbolize the Himalayan mountains with the sun and moon inside, and you'll see it everywhere especially in Kathmandu's main square.
You need to make sure that you convert your USD currency to Nepal Rupees as soon as possible. Nepal is still very dependent on using paper bills, and credit card machines are hard to come by.
Japan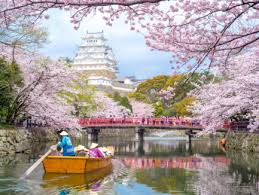 Japan has the perfect mix of culture, history and modern comfort. It also has some amazing food that enchants your taste buds leaving you craving for more. Japan is a unique country, one of its kind even though you might have an image of how it will be, with its high rises and being the industrial and economic hub of Asia, this beautiful country will still surprise you.
More people visited Japan last year than ever before: 24.04 million. Combining ancient culture with exquisite natural landscapes and dazzling modernity more and more people are inclined to travel to the country that is so beautiful with natural wonders yet it is one of the world's most advanced countries.
While planning your trip to this mesmerizing country keep few things in your mind to make the maximum of your visit, the first thing to travel hassle-free get a Japan Rail Pass can help save you plenty of money, especially if you are planning to travel around a particular region or the whole country. You can buy an unlimited pass that's valid for a specific region or country-wide.
This will give you access to the bullet train (Shinkansen) and commuter trains, buses, and ferries, often for about the same price as two individual train tickets. Keep in mind that passes are valid for a certain number of days within a seven, 14, or 21-day period and cannot be used on the Nozomi trains.
Whenever you travel to a country learning a few basic phrases in the local language is important, but in Japan where etiquette is held in the highest esteem. Make sure you are familiar with how to say "thank you," "please," and "excuse me," even if you have to write them down or memorize phonetically. You may also want to write down a few translations for your reference. Words like bathroom, ramen, karaoke, exit (trust us) etc.
The restaurant etiquette in Japan is that you don't need to tip in Japan. If you do, there's a big chance your server will run after you to give you the money thinking that you have accidentally left behind. Waiters get paid a living wage in Japan.
Pointing at public and talking loudly when you are sharing space with others is not considered nice and it's understood to be rude. So avoid mindless talking and laughing on a high pitch/volume at public places in Japan.
Asia is home to world's most diverse and colourful cultures starting from Bangladesh's river basins to Everest of Nepal, it has multiple things to offer in form of food, culture, natural and man-made wonders, although there are certain things that need to be kept in mind before deciding which should be your next travel destination or will make it to your bucket list.
Understanding that all the risk that has the potential to arise are catered one must start the journey, when it comes to being secure as an imminent part of your travel, don't forget to buy Jubilee General travel insurance that helps no under any medical conditions but other situations as well.
They have multiple packages varying in premiums and coverages, Jubilee General insurance is one of the most reliable and trusted names in the world of insurance, they have good claim settlement time and believes in providing and facilitating people so that they can travel stress-free in a relaxed manner.
You can buy Jubilee General travel insurance online through Smartchoice.pk in just a few minutes and get your policy in your email.
Last but not least, Travel, as it makes you wise and offers wisdom from nature!