Karachi spread over 3,527 km² and with a population of 25 Million, it is Pakistan's largest and world's 2nd most populous city. Karachi is the city of lights that never sleeps and it has always been a great attraction to the tourists for the variety of activities and tourist spots that it has to offer.
OralBulkingCycle News | Best oral steroid stack for bulking and cutting dianabol for sale uk urogen pharma to host virtual spotlight event on november 10, 2021
Karachi is popular for its beaches and dining as it is for its architecture and atmosphere.
Below are 10 things to do and see in Karachi that you are going remember for rest of your life…
Clifton Sea View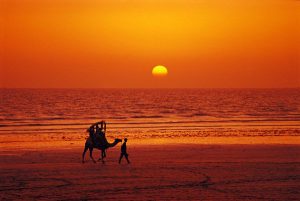 If you are visiting Karachi for the first time it is the best place to start with. Sea view or Clifton beach is the main attraction of Karachi city. This beach once held the record of the most famous silver sand beach but the sand got affected by an incident of the oil spill in 2003. it still holds its charm that is worth a watch.
101 Sitater om Bad Ass-trening, trening og kroppsbygging testosteron gel muskelbyggende stabler – kroppsbyggingspakker | legion
Tourists and families visit the beach 24/7. Camel and horse riding, buggy rides, dirt-bikes, parks along the beach, hot corns of the coals and spicy and tantalizing roadside snacks are the reason too that Sea view is always crowded.
Mazaar – e – Quaid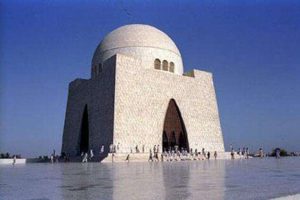 The Final resting place of the founding father of Pakistan Mohammad Ali Jinnah also known as National Mausoleum. This tomb is among the most popular destinations for foreigners as well as the locals. The tomb usually remains calm and peaceful with people visiting to pay respect. It was designed by a great architect Yahya Merchant and built it with white marble.
The sports you have to try if you don't like to play sports testosterone cypionate how it work 5 productive activities to do from home.
This masterpiece was completed in the late 1960s. Mazar e Quaid is located in the heart of the city, famous for its design, atmosphere along with some lush green gardens.
Mohatta Palace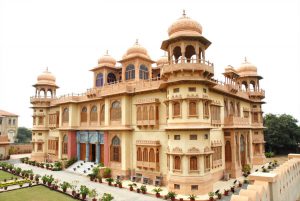 Mohatta Palace is a great place to visit if you are interested in the history and heritage of any place. It was built by Shivratan Chandraratan Mohatta who lived in this palace for 2 decades and then left for India after partition. The palace covers an area of 18,500 sq. ft. It has luxurious rooms and 9 dorms.
This palace is close to the sea near the Tomb of Abdullah Shah Ghazi and Park towers. There is a secret underground tunnel for the safety that leads to a Hindu temple that is just a kilometre away. This palace is a museum that exhibits treasures and other collections from the era of British and displays the culture of the subcontinent.
Charna Island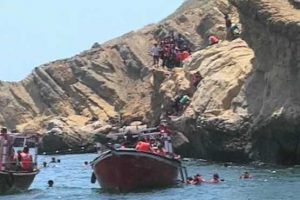 Charna Island is a small island around 6 to 7 kilometres away from Karachi in the Arabian Sea. Charna is a giant piece of rock in the middle of the sea covering the area of around 1.5 km sq. The main attractions of this island are Scuba diving, Cliff diving, Jet skiing, snorkelling, underwater photography and exploration of sea species.
So if you need an adrenaline pump, and days that you want to spend well with your friends you must visit this island. This Island also used by the Pakistan Navy as a shooting range. Fishermen come near this island for fishing as there is vast species of Lobsters, carbs and other fishes. The underwater colourful world near Charna has plenty of species that really allure the divers to come again n again.
Pakistan Maritime and PAF Museum
The Maritime Museum is a naval museum with an area of 28 acres. It has a large auditorium and galleries. The museum, which was based and built on the modern concept of education, has several ancient art galleries. The museum also displays a Minesweeper ship, Breguet Atlantic aircraft and a wooden barge that was given by the Her Majesty, Queen of England to Naval Chief of Pakistan in the '60s.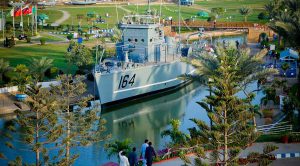 It also displays a full class Submarine PNS Hangor (S131). The timings of the museum are 8:00 am to 22:00 pm and the ticket cost 2-3$ (Rs. 200-350) depending on adult or children.
The other museum worth visiting is the PAF museum (Pakistan Air Force Museum) it's definitely a must-visit if you have little kids. It's nice and vast, well maintained, it has all the facilities. It is very green and one has to take a long walk with the kids before entering the museum. There are so many aircraft models on display, and there is so much information one can collect on Pakistan's aviation. You can also plan a small picnic from home if you are not fond of buying food from outside. Evenings are best for a visit there since it's always breezy.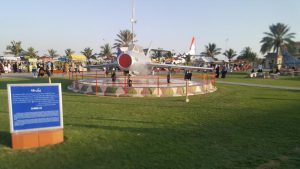 The main reason to recommend PAF museum as a must place to visit in Karachi is because it's a very interactive one and children can hop off on some of the model aircraft and enjoy pressing buttons and moving the levers. Which would enable them to enjoy the feel of aircraft that to a real one?
Masjid E Tooba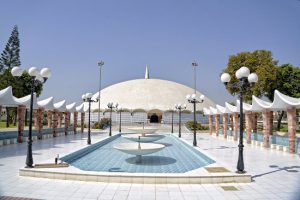 Masjid e Toobah also known as Tooba Mosque or Gol Masjid was built in Defense Housing Authority in 1969. And it is known as the largest single dome mosque in the world and the 18th largest mosque with the capacity of 5000 people in the prayer hall.
This mosque is beautiful and has an eye-catching infrastructure. It is made purely of white marble. The dome has a diameter of 70 meters and has no central pillars. The other main thing of the mosque is that the engineers have kept acoustics in mind while building it, hence if a person speaks at one end of the dome, it can be heard at the other end.
Nothing says Karachi louder than TDF Ghar!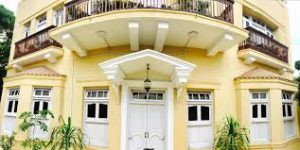 A must visit place in Karachi which makes you feel nostalgic about the era went by! Surprisingly serene amidst the hustle of Karachi, TDF Ghar is one of a kind with its Minton floorings to the stunning view of Jinnah's Mausoleum from the rooftop. The place is beautifully maintained. You can walk through the old times. Enjoy Karachi's breezy evenings with a cup of chai which would leave you mesmerized.
TDF Ghar a definite window to the old times to reminisce the golden era, it's worth a visit if you are in Karachi or visiting it. The entry fee is PKR 50 per person.
Hawks bay & Sandspit: A relaxing, affordable getaway with a beautiful sunsets
Hawks Bay is a beach in Karachi, Sindh, Pakistan. It is situated 20 km south-west of Karachi. It is accessible through Hawks Bay Road (Manipur Road). It is a very famous tourist sandy beach with crystal blue water.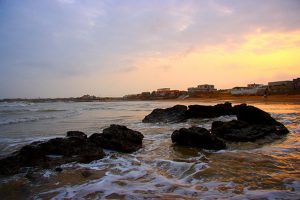 If you want time out from the hustle and bustle of Karachi's busy city life, but don't want to venture too far from home, Hawks Bay is the place to visit. If you can arrange for a hut there, they are available on rent nothing like it, for you can then comfortably spend a whole day and savour the sounds and sight of the waves as they hit the shore, leaving behind gifts of shells and pebbles as they recede.
Nothing more peaceful and relaxing than Karachi's Hawks Bay! And if you are visiting from outside Karachi or Pakistan then pick a weekday for your trip you will have the beach all to yourself!
There are camel and horse rides also available if you are into them are a bonus for you, while roaming you will find many enterprising souls offering you a ride for a negotiable amount. Hawks Bay is one of the few beaches in the world where green sea turtles come to lay eggs. It hosts one of the rarest reptile species.
Sandspit is situated south-west of Karachi city beach is a very famous picnic spot among the resistance of both Karachi and tourist visiting Karachi. From October to March the sea at Sandspit is very calm and quiet except for the monsoon season when the sea is rough.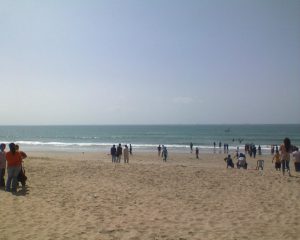 People love to visit this beach because of its shallow water that is ideal for swimming and sunbathing. Many people from Karachi and those visiting Karachi spend a complete day at Sandspit and take a bath in its blue and clean water. The soothing breeze and sunset at Sandspit beach creates a brilliant atmosphere and gives a relaxing effect. Do remember to bring a camera to capture the memorable moment at the beach.
Haleji Lake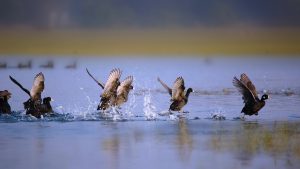 Haleji Lake is located in Thatta District, 70 kilometres away from Karachi, Pakistan. It is Asia's biggest bird den and is a heaven for bird lovers. Nearly 223 bird species have been listed in the environment of Haleji Lake. Absolute region of Lake Haleji is approximately 19 kilometres.
The birds migrating from different areas fly to Haleji to spend the cold spell, you can find some beautiful birds at this place that are rare and unseen anywhere else in Pakistan.
Museum 101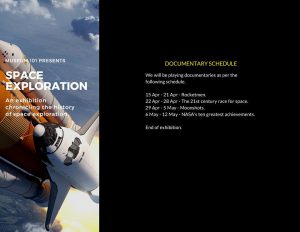 Museum 101 is a new museum in Karachi; since there are very few science museums in Karachi it has done a great effort. Although the place is not huge, it's a great initiative. It's helping children to become more aware of space exploration and astronomical sciences; they will surely enjoy such a trip with mom and dad.
If you are bored of taking your kids to the same arena again and again, then it is highly recommended that you take them here. Museum 101 has some excellent displays of space rockets and aircraft they also show short space documentaries, which totally captivates the kids. Timing is from 8 am to 10 pm, Monday to Thursday Rs.350 per person, Friday to Sunday Rs. 450 per person and Children under 3 and senior citizens are free.
Onderland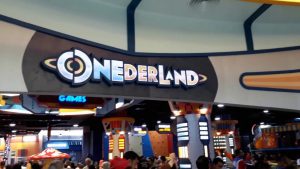 Onderland is located in Lucky One Mall; it is the newest adventure arena in Karachi. I personally like it a lot because it's new and exciting; the rides are bigger and thrilling. It has a lot of hands-on based activities like rock climbing, Trampoline Park, alien abduction ride. The toddlers' soft play area is really nice and interactive. It's very clean and the staff is very friendly.
When visiting for the first time you have to purchase a card worth Rs.1000 which can be used for the rides and have your fill of adventure. Onderland is also Karachi's first indoor theme park with a roller coaster.
Frere Hall
It is among the few remnants constructions of British complex era that is still visible in Karachi, Sindh Pakistan. During the British Rule, Frere hall serviced as a Town Hall and was the centre of Karachi's social-cultural activities.
Frere Hall was constructed in 1865 in the Venetian Gothic architecture style with yellow Karachi limestone with red and greyish sandstones of Jungshahi. Frere hall holds a library in addition to an art gallery rich in paintings by Pakistan's iconic artist Sadequain.
Frere Hall is open for public however on Sundays there's a book fair in its courts where it's affordable to buy some old and historical books.
Empress Market
This market is another place in Karachi where the British colonial rule is very evident; it was named to celebrate Queen Victoria when it was built in 1889. The foundation stone of the market was laid by a British, James Fergusson, who was the Governor of Bombay at the time.
It's now one of the city's oldest markets and is located in one of the busiest areas of the city Saddar so it's not for the people who feel claustrophobic in crowds! You'll find everything and anything for sale, with lots of household items, plastic jewellery, clothing, and much, much more.
It may not be an ideal place for an outing, but it's definitely your one-stop-shop for your needs for the outing at a very reasonable cost.
Jinnah House Museum and Flag Staff House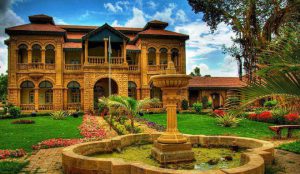 The Jinnah House Museum was originally known as the Flag Staff House and was bought in 1943 by Pakistan's founder Mohammed Ali Jinnah. His sister continued to live in it after his death, only leaving it in 1964.
The house was neglected until 1985 when authorities restored it and converted it into a museum celebrating the life of Jinnah. You can see his reading room, dining rooms, bedrooms and dressing room, many of which are still full of their original furnishings and possessions.
A visit to Jinnah house museum will give you an insight of the life lived by the great leaders of Pakistan. Address: Fatima Jinnah Road, Karachi, Pakistan. Opening hours: Saturday through Tuesday, and Thursday, 9 am – 1 pm, 2 pm – 4 pm. Friday 9 am – 12 pm
Chaukhani tombs

Around 30km east of Karachi is the Chaukhani tombs, beautifully carved and intricate tombs which spread over around 2 square miles of land. The tombs are built on raised platforms in a pyramids form with decorative stone slabs covered in relief with human and figurative designs.
Most of the tombs represent family graveyards and only a few are placed under pillar canopies finished in the Hindu style. The carvings on some of the male graves show a horseman with his arms; shield, sword, bow and arrow. The carvings on women's graves represent ornaments such as bracelets, necklaces, rings, anklets, etc. Also in case of male graves, a boss shaped projection provided at the northern end intends to hold the turban of the deceased.
It's not known exactly when they were built, but it's believed they contain the tombs of Saloch warriors who were in the area in the 17th and 18th centuries BC. They are an incredible sight and have been recognized as a UNESCO World Heritage Site. Address: Port Qasim Rd, Karachi, Pakistan.
Indulge in the goodness of the treats at Burns Road some classic Gola Ganda?
Nothing beats the food in Karachi, the food that you can experience in this city is nothing short of some 360-degree ride of your taste buds from anything desi to Chinese and continental, you can enjoy all!
To enjoy a wide variety of mouth-watering Pakistani delicacies you should visit the age-old, famous food street of Karachi, Burns Road. Waheed kay kebab, Malik ki Nihari, Agha ki Sajji, the sweet rabri of Delhi Rabri House… simply delectable! Price: average Rs 600/- per head.
Get a taste of Karachi's famous Gola Ganda at Dhoraji. Crushed ice topped with Rooh Afza, chunks of orange, pineapple and banana, ice cream soda syrup, dried fruit, chocolate and condensed milk… and lo behold! the heavenly edible rainbow is ready. Price: ranges from Rs 150/- to Rs 500/-