At Smartchoice we have simplified Health Insurance for you so that you do know your policy in-depth and understand beforehand what you are getting yourself into and to enable you to utilise the most of the purchased policy.
The terminologies are simple but sometimes even the simplest things can confuse, so here at Smartchoice where customers come first, we have taken the initiative to make all the health terms crystal clear for you!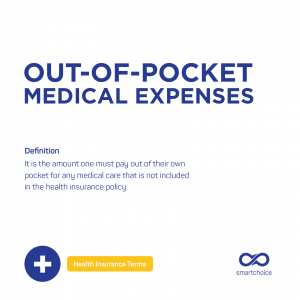 Out of Pocket Medical Expenses: It is the amount one must pay out of their own pocket for any medical care that is not included in the health insurance policy.
Although a big chunk of your medical emergencies is covered under insurances, however, there are a few things that you need to take care of yourself.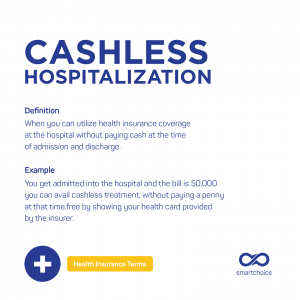 Cashless Hospitalisation: When you can utilize health insurance coverage at the hospital without paying cash at the time of admission and discharge.
Example: You get admitted into the hospital and the bill is 50,000 you can avail cashless treatment without paying a penny at the time free by showing your health card provided by the insurer.
Cashless Hospitalization helps you to not be stressed about any money matters to have the admission to the hospital.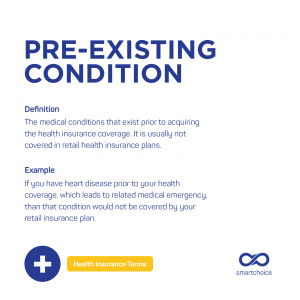 Pre-Existing Conditions: The Medical Conditions that exist prior to acquiring health insurance coverage. It is usually not covered in retail health insurance plans.
Example: If you have heart disease prior to your health coverage, which leads to the related medical emergency than that condition would not be covered by your retail insurance plan.
Know your insurance policy and yourself well! Understand the nitty-gritty!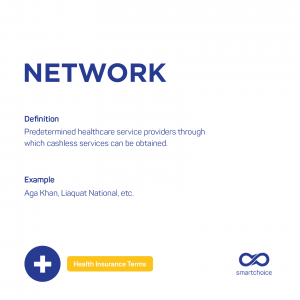 Network: Predetermined healthcare service providers through which cashless services can be obtained.
Example: Agakhan, Liaquat National Etc.
Learn more about the options that you would be comfortable with for your healthcare services!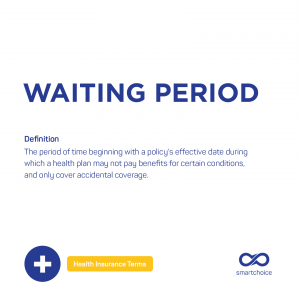 Waiting Period: The period of the time beginning with a policy effective date during which a health plan may not pay benefits for certain conditions and only cover accidental damage.
Learn about the waiting time from the effective date of the policy, what it does and does not cover!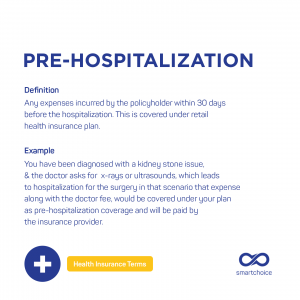 Pre-Hospitalisation: Any expense incurred by the policyholder within 30 days before the hospitalisation. This is covered under the retail health insurance plan.
Example: You have been diagnosed with a kidney stone issue and the doctor asks for x-rays and ultrasounds which leads to hospitalization for the surgery in that scenario that expense along with the doctor fee would be covered under your plan as pre-hospitalisation coverage and will be paid by the insurance provider.
The coverage of any expense that had incurred by the policyholder, before you are admitted in the
hospital….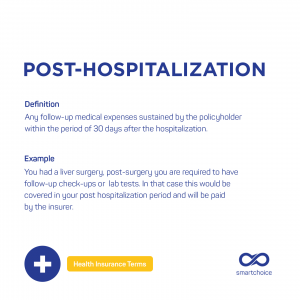 Post-Hospitalisation: Any follow-up medical expense sustained by the policyholder within the period of 30 days after the hospitalisation.
Example: You had a liver surgery, post-surgery you are required to have follow-up checkups or lab-tests, in that case, this would be covered in your post-hospitalisation period and will be paid by the insurance provider.
Avail post hospitalization coverage for 30 days after surgery for any checkups, tests and doctor follow-ups!
Hope these terms would help you understand things better and play a role when you are making a decision when you are buying health insurance for yourself and your loved ones!