While Zong has taken the mobile broadband sector by storm, there are issues that keep cropping up. The variations in processes, unexplained by the company in its advertisements, are causing a headache for its users.
Balance drained to zero in few hours
The first major issue we personally faced was of package activation. After recharging our prepaid connection at the end of the month we had to inform at Zong call center who would then activate our Zong 4G device package. Failing to inform would mean being charged regular data charges for as long as mobile broadband is active. Within hours our balance was drained down to zero. Hence one should turn off their device if they haven't subscribed to any of the available zong internet packages.
Loss of Double Volume Promotion
Another major issue, recently brought to light, is of loss of double volume promotion especially for prepaid connections.
The double volume promotion is auto-renewal, meaning before the end of your billing date you must have recharged your Zong 4G Wingle/MiFi device otherwise the package will not auto-renew and you will lose double volume offer. One user, Arsalan Khatri, faced this problem and raised the issue on Facebook.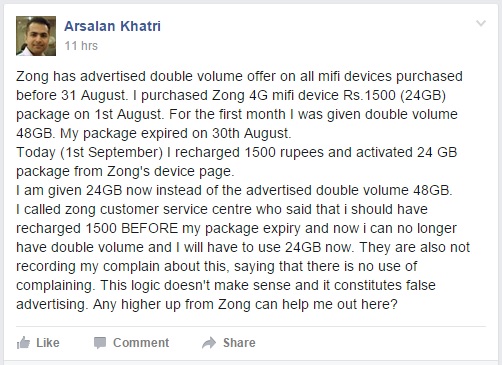 Arsalan also shared screenshot of conversation with Zong's official Facebook page: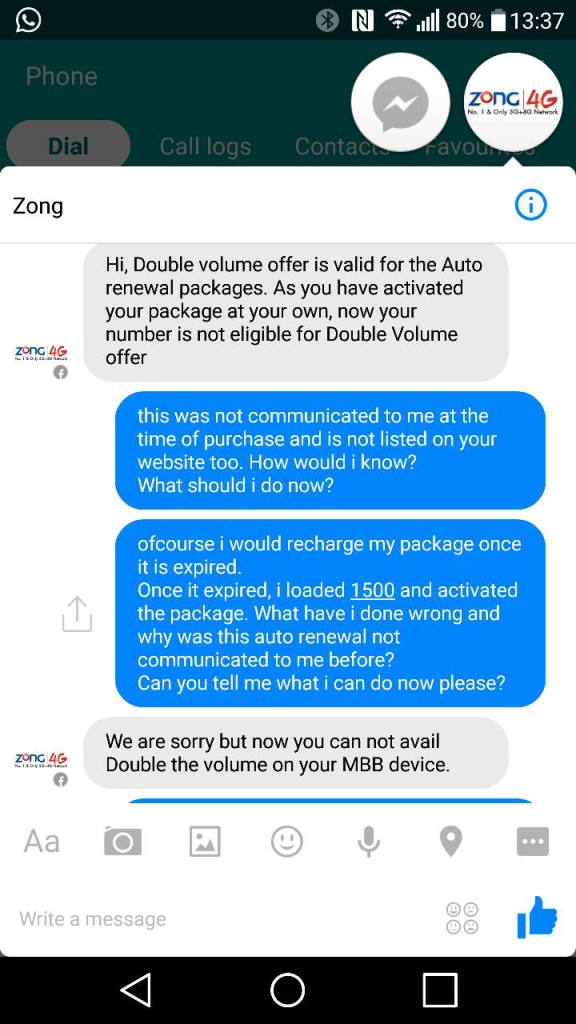 This problem is particularly prominent in prepaid cases because most people recharge after the expiry date and as a result will lose out on the double volume offer. For postpaid connections it should not be a problem since their bill is generated at the end of the month and will result in auto-renewal of the Zong WiFi packages.
Zong should have communicated to the users the requirements such as balance availability for auto-renewal so that they could use the service in peace, knowing what they have to do to continue using double volume offer.