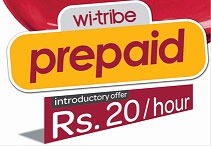 Wi-Tribe has recently announced the launch of its Prepaid packages allowing customers to save themselves for the end-of-month bill payment hassles.
Wi-Tribe will now allow users to purchase internet hours in advance (At a rate of PKR 20 per hour) and prepaid cards will be available in a variety of denominations starting at PKR 100 leading upto PKR 1,000.
Users will have to pay for the device/Security deposit and make an up-front credit addition of PKR 1,500 on all packages which is, of-course, usable.
To our knowledge, prepaid packages are available at a speed of 512 KBPS only.
The packages will be added soon to the central SmartChoice.Pk package database.