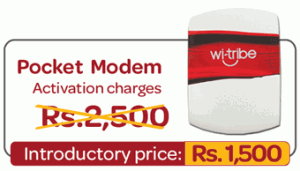 The Pocket Modem concept, first introduced in Pakistan by Qubee, has triggered a race (as it was expected). Wi-Tribe has announced the launched of its Pocket modem as well for users on-the-go.
The pocket modem is offered for PKR 1,500 at a discounted rate initially and can be ordered at the Wi-Tribe helpline or their customer care centers.
Regarding the changing consumer needs, this is what Wi-Tribe Director Marketing Ali Fahd said:
"We understand the evolving needs of today's internet users. With this launch, we aim to provide users with a convenient, portable solution to instantly connect. wi-tribe customers can now enjoy always-on connectivity, without the fear of sudden or unexpected power failure".
The service is available in Karachi, Lahore, Islamabad and Rawalpindi.