Ever wondered how the famous websites that you visit daily looked like years ago? Fortunately you can do so easily. Non-profit organization by the name of Internet Archive has developed a website by the name of Archive.org that has build an internet library, using their search tool Wayback Machine you can see how the website looked like in past. They have archived texts, audios, images, software and web pages which can be easily access via their website here. It claims to have saved 435 billion web pages over the time. You can save any web page if the website allows crawlers. Wayback Machine allows you to find different web pages using advanced search options.
How to use it.
Once you enter the desired URL and click Browse History button, you are presented with a page that displays available screenshots over the course of years. It also displays the no. of screenshots that the Wayback Machine has saved time to time. Then you can select and view any available screenshot. In addition to just browsing how the website looked in past, you can also use it effectively if you are buying a running website or used domain name. Wayback Machine by Internet Archive also supports different APIs that can be used to retrieve desired information.
Check out Wayback Machine
How these Websites looked 5 years ago?
Below we have shared web page screenshots that display how these famous websites looked like 5 years ago.
Google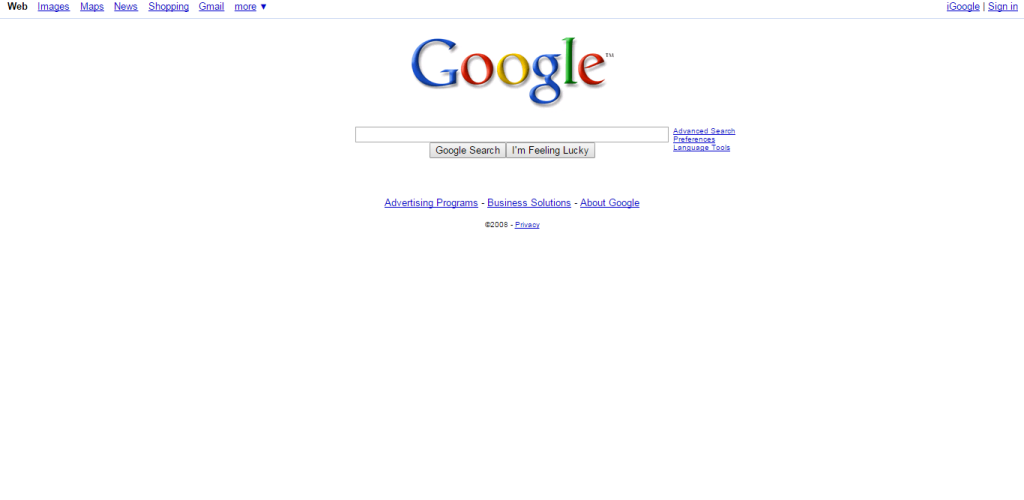 Google homepage has not changed much in terms of design. They still have the same looking homepage with fewer controls but better graphics and functionality.
Yahoo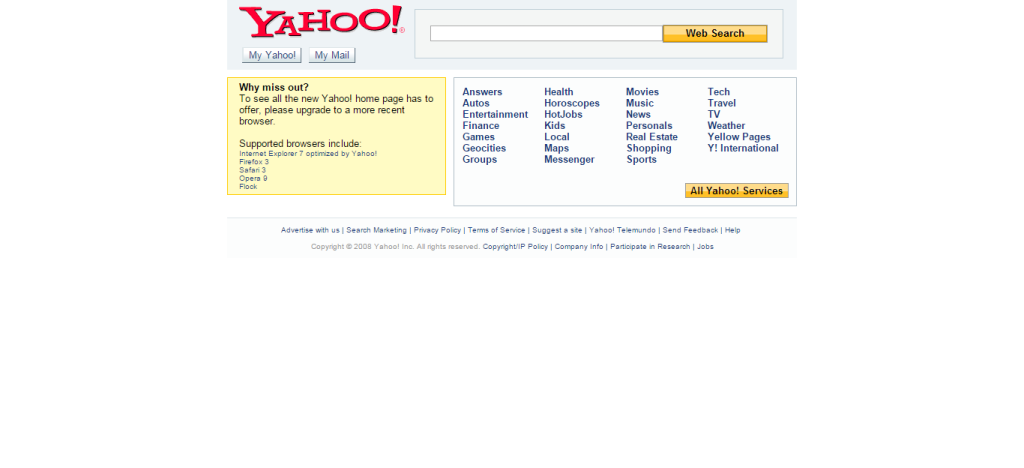 Today Yahoo looks much different from that of 5 years ago. Just from a simple page with different links, they have moved to a crowded website homepage with links to services, top stories, weather reports and of course a search bar.
Amazon
Even 5 years ago Amazo looked pretty good. No doubt clear navigation is a must for E-Commerce websites. With the passage of time they have introduced better navigation using related images instead of simple text links.
Apple
Apple website has not much changed over the time. The homepage provides clear navigation for all of the Apple products. You can browse any product for detailed information, check sitemap or simply land on contact page.
Ebay
Same like Amazon, Ebay also has modified their homepage with on going web trends. They have replaced the simple text links with related images and short description.
These were the screenshots that showed how these websites looked 5 years ago. You can also use the Wayback Machine to check how your favorite websites looked in the past. No doubt Internet Archive is doing a great job to save the history of internet that is freely available for anyone to explore.