My Warid, a smartphone app by Warid telecom, is a convenient account management solution for prepaid and postpaid customers. We decided to test the app and downloaded it on our phones.
The app detects the sim first and if it doesn't find Warid's sim, the app fails to load. Which means Warid subscriber cannot manage his/her account if sim card of another telecom company is in the phone. Our phone with Telenor sim received error immediately of clicking the app, providing no opportunity to interact with the app.
Using an iPhone with Warid sim we created account for the app and waited for Warid to send pin code (password for logging into the app).
The pin code never arrived.
After much waiting we experimented by activating forgotten pin option. Soon the pin code was re-send to us and we were able to login to the app. It may have been a technical glitch but it made us wait for a while.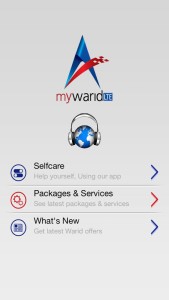 The app provides a clean interface with clearly labelled options. The primary options are:
– Self Care
– Packages & Services
– What's New (includes newer features added in Self Care and Packages & Services)
In Self Care the user is able to manage the subscribed account, able to access personal details in Accounts Info, Friends & Family numbers, Billing Information, Payment History, PUK Code and Card Recharge options.
These comprehensively cover the whole account and include information updated in real time.
The app interacts with your phone records as well and draw out names and pictures of contacts, that is why 3 contacts in Friends & Family list have no names or pictures since they were not in the phone book. Since name and picture of one contact was there, the app pulled it up and displayed when screen loaded. The load time isn't long either and each screen with records take between 2 to 5 seconds to load on average, both on WiFi and LTE.
The recharge section is where prepaid customers can enter card number and add credit to their account. The process is simple though it will charge you Rs. 2+tax for each recharge, a rather unfortunate cost considering customers already paying so much on each recharge.
Packages and Services section provides clear details of current package and account usage. You can check various facilities, check LTE coverage around the country (using Google Maps), a good list of LTE compatible handsets and even a balance transfer facility. Just enter the number, select the amount and transfer. No need to remember long codes to perform the same function.
Smaller functionalities like Missed Calls alerts can be activated from the app, a helpful addition and no need to spend time on call center for activation of this facility.
If you want to log out, tap Warid logo and a drop down menu will appear. Log out from there.
Some of the issues we notices
Apart from the pin code glitch and no access with presence of non-Warid sim, we came across the following problems in the use of this app:
Making the logo as the tap point to bring additional options is unconventional and distracting as well. Most users would attempt to tap the menu lines on top left (the 3 small horizontal lines) to bring forth more options, only later realizing it is the logo and not the lines.
While the drop down from logo is active, so is the background. Swiping finger horizontally will move screens in the background but drop down will not automatically vanish. This seems to be a UI issue and not very user friendly because you have to tap the logo again to remove the drop down menu.
If you have two Warid sims, you would need two separate logins. Both accounts cannot be signed in using single credentials as usernames are actually the phone numbers and not CNIC or any other login name.
A separate menu for MiFi is given but it only provides details about what MiFi is and what can it do. No directions for acquiring MiFi or any interactive details that subscriber might need.