Google recently held IO 2016 in which it made various announcements related to Android OS, Chrome OS and other things in general. It also brought out new hardware in the form of Google Home and DayDream VR. There were also Google's new messenger and videocalling applications announced namely Allo and Duo which we've covered earlier and you can read more about them here.
However apart from all of this, Google had two new announcements related to applications in general as well. The search giant announced two new kinds of applications namely Family Library and Instant Apps. These are for the Android platform. Let's get to know what these are all about!
Family Library:
This is basically an app sharing feature. For example if you download a paid app on your device, you'll be able to share it with upto 6 members of your family on various devices without having to pay for the same application multiple times. Google is going to enable this feature for all applications after 2nd July and it's actively asking developers to enable the Family Library feature for past purchases as well but also warns that this decision will not be reversible. However it is unclear at this moment how Google will verify the family members on each account. Apple has an approach where it lets one family member be the organizer and other family members can make purchases on their behalf and charged under a single credit card. Right now it's the same way how you share a Google Play Music subscription.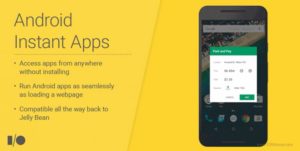 Instant Apps:
The other project that's becoming a reality is known as instant apps. In a nutshell it means running an app without actually having to install it first. The basic concept behind this is that you get a link for the app and it loads only the relevant parts of the app according to your request or need. This will be done on the fly so there won't be a lot of waiting time included. If you like the app then there will be a button from where you can actually download the full app itself. This can really come in handy if you wish to try out an app before actually buying it but it depends upon Google and the developers on how this functionality will actually be enabled for existing or new apps in the Play Store. Android Instant Apps will be supported on OS versions going back all the way to Jelly Bean, so this functionality will be accessible to over a billion Android users. The new feature will be out for consumers to play with "later this year", Google says. In the meantime, developers can start working on making their apps compatible. Google has partnered with a small number companies to "help refine the experience", including BuzzFeed, B&H Photo, Medium, Hotel Tonight, Zumper, and Disney.