Google as we all know, is always at the forefront of bringing out the latest and greatest in tech and software to users across the globe. Now in a bid to shake up the way people interact with each other online it has brought in Artificial Intelligence (AI) to everyday communication methods. These applications are aimed at iOS and Android users enabling them to communicate with each other. Let's check out what Google's new applications are all about!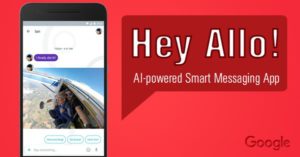 Allo:
Google's new smart messaging app is called Allo that uses your phonebook to find other contacts that are also on Allo. It's an approach similar to WhatsApp, Viber and many other messaging applications. It lets you use emoji, ink, stickers and Whisper Shout, which lets you send text messages in an enlarged font to resemble a virtual shout in conversations! It also has Smart Reply feature built into it that learns how you usually respond to messages and can predict replies for messages from your contacts. Smart Reply even has the ability to analyze photos and suggest suitable replies for you to send e.g if you're sent a picture of a cake, the suggested reply might be "tasty", "I love cake" or "Happy Birthday" etc. The more you use the app, the more personalized it will become and learn your conversational traits. Allo even integrates Google Now within the app so you can search for sports scores or restaurants or virtually anything. Additionally it also comes with a personal assistant in the form of an AI chat bot that can help you with various requests regarding flight times, tv shows and the likes. Since AI and privacy don't sound too good together, Google has integrated an incognito mode with end to end encryption to protect your privacy.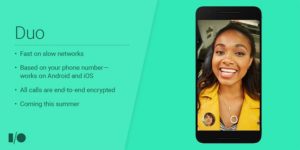 Duo:
This is a fast one-to-one video calling application like Facetime. Duo is also made for both iOS and Android platforms. Like Allo, Duo is also based upon your phone number so you can connect with your friends who already have it up and running on their devices.  It also comes with a new feature comically named "knock, knock" that lets the recipient stream the caller's feed before actually having accepted the call. The video quality is up to 720p HD and the application will automatically adjust the video quality depending on the strength of your WiFi/mobile data connection. It also promises seamless transition from WiFi to cellular data and vice versa.
Both of these applications will be made available for download this summer on iOS and Android platforms.