Mubarak Village Karachi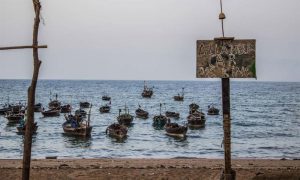 Mubarak remains the second largest fishermen village in Karachi. Bordering with Gadani (Balochistan), the landscape encircles a stark contrast of golden hills and turquoise clear waters.
Away from the city frenzy, this place welcomes you with a lot of love. As soon as you park near the shore, numerous boats are anchored floating on crystal clear waters, beneath the expansive blue sky.
You can take food and some snacks and rent-out hut to put away your stuff and enjoy the sun and the beach. You can also take a boat-ride to Charna Island and explore the beauty that the sea-life has to offer, also enjoy multiple sports such as cliff-jumping, underwater photography and other thrilling water-sports.
Ranikot Fort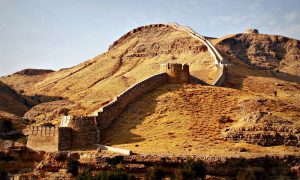 Ranikot, with a circumference of about 26 km, is the largest fort in the world. However, this has not been enough to convince the authorities to develop it as a major tourist attraction.
This fort is easily accessible from Karachi through the National Highway. After departing from Karachi, head to Dadu through on the Indus Highway. The road is in excellent condition. It's an hour-long journey to San, A little further from the town there comes a diversion. A rusty board announces that Ranikot is some 30 km away. Even though the road is in pathetic condition, the distance can be covered in 30 to 40 minutes.
This will be a very interesting journey, especially the road-trip enthusiast who can get a view of the vibrant landscape that stretches from outskirts of Karachi to Dadu, you can also enjoy the small lake Paryo-jo-derro while travelling to the fort.
The one thing that needs to be taken care of before embarking on a road journey, is that one should make sure that their car is in top-condition you have maintained your car and for any unforeseen situation get your car insured so if anything happens, filing a claim and dealing with the issue is just as call away and your respective provider would lodge your claim and resolve the issue without adding burden to your pocket and affecting your monthly budget.
Gorak Hill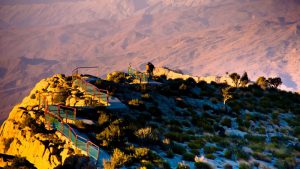 Snowfall in Sindh sounds more like fantasy but no, there's one place in Sindh where it really snows in winter, to the extent that in 2008 the mountains got entirely covered with a layer of snow.
Gorakh is a scenic plateau situated at a height of over 5,688 feet and is part of the Kirthar Mountain Range that covers the entire Sindh's border with Balochistan in the west.
You need to leave in the early morning hours to avoid the day time traffic and stop over at Sehwan for breakfast (as all the hotels are open 24/7) after having breakfast at local dhabba leave for Dadu city after reaching their rent out a 4×4 Jeep and travel to the Gorakh Hilltop, that would take around an hour and a half or two at max. the weather at the top remains cold through-out the year, once there you can do mountain-biking, Born-Fire, BBQ and activities like paragliding or simply enjoy what nature presents or you can also treat yourself to an established restaurant at the hill-top keeping it a day excursion you can come back to Dadu city within five to six hours and head back to Karachi, you can reach back Karachi late at night the same day.
Khanpur Dam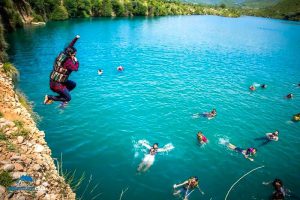 Khanpur dam an hour and a half from Islamabad is located on the Haro River near the town of Khanpur, Khyber Pakhtunkhwa (formerly NWFP), Pakistan, about 25 miles (40 km) from Islamabad, Pakistan. It forms Khanpur Lake, a reservoir which supplies drinking water to Islamabad and Rawalpindi and irrigation water to many of the agricultural and industrial areas surrounding the cities. The dam was completed in 1983 after a 15 year construction period believed to have cost Rs. 1,352 million. It is 167 feet (51 m) high and stores 110,000-acre-feet (140,000,000 m³) of water.
Boating is the leisurely activity of travelling by boat, or the recreational use of a boat whether powerboats, sailboats, or man-powered vessels (such as rowing and paddle boats), focused on the travel itself, as well as sports activities, such as fishing or waterskiing. It is a popular activity, and there are millions of boaters worldwide.
So you can spend a day doing water-sports, it's a new exquisite place to explore the adventurous side of yours and can be an amazing break from your routine.
Historical sites in Lahore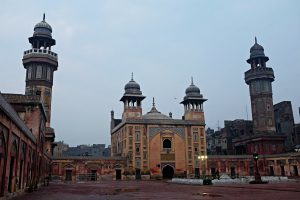 Lahore retains its touristic look; the juxtaposition of Mughal and British heritage with a verdant landscape Lahore is the heart of Pakistan, the historical city of Punjab and the second biggest city in Pakistan. It is simply in many ways a rare city. Lahore implies in different ways for different persons, it is the city of gardens, colleges, historical structures, Landmarks and the capital city of Punjab.
Lahore is famous for many things. The areas of Lahore which are really worth seeing include Lahore Fort, Minar-e-Pakistan, Sunehri Masjid, Wazir Khan Masjid, Iqbal Park, Shalamar Garden, Badshahi Mosque, Tombs of Jehangir and Nur Jehan which lie in Shahdara.
A day can be spent well while exploring the remarkable city that carries so many heritage sites and beautiful architecture, a tour-de-Lahore would be absolutely worth your time.
On the day out be sure that the vehicle you are using is maintained and can take you through narrow roads and lanes, as many of these spots are in old-Lahore which is densely populated so one needs to assure things are in a top-notch state before setting out to a journey through history.