Why Should You Buy A Bike Insurance Policy?
"Life can change in a moment"
This phrase rings a bell in our minds, why because we are all too familiar with the ups and downs. The uncertainty of things, the active chance of things not being the same as they were yesterday…
Riding a bike is an experience, the feeling you get when the air passes through your hair, the feel of emancipation as you ride your bike and the best of all the mobility it offers is just beyond any other automobile. As "no rose comes without thorns" in the same manner, riding a bike also carries some potential risks which can cause some serious monetary and health damage.
Understanding needs to be inculcated that bike protection coverage needs to be purchased when buying a bike so that any damage incurred would not cause any undesirable impact on the socio-economic condition of any individual.
What is Bike Insurance?
Bike Insurance is a type of monetary protection for a motorbike that will cover the expenses for damages to the motorbike or third party due to an accident or natural disaster.
Why should Bike Insurance Mandatory in Pakistan?
The motorbikes are a good option to travel as one can navigate the means of transportation with ease in a congested metropolitan city like Karachi. There is also a range of motorbike models in the market to choose from as per the rider's preference. The motorbike tends to top the list of preferred or used long-distance travel-friendly vehicles or as an everyday travel vehicle. Irrespective of whether an individual is a cautious rider or not, accidents on road can happen anytime anywhere without any prior warning.
The motorbike insurance provides a security net against theft, fire, natural disasters, malicious acts, etc. Additionally, in case of third-party injuries or property damage, the third-party liability protection covers the same damages. Also, bike insurance should be mandated by the law for the reasons mentioned below:
Protection Provided by Motorbike Insurance
Not everyone can consider themselves as a responsible rider? Can anyone guarantee that no kind of damage will befall your bike or you on the road? Not!
Nonetheless of how cautious an individual is while riding, the motorbike is exposed to dangers both on-road and off-road. Occurrences like thefts, natural disasters, and accidents can occur at any given point in time, even if the individual is not at fault. These incidents can cause extreme financial losses. A motorbike insurance policy provides coverage for these financial losses and protects you from any potential liabilities. Third-party liability insurance is a basic insurance that is legally mandated in Pakistan. An individual who invests in dependable bike insurance must protect themself in the event of any vehicle-related disaster.
Why is Motorbike Insurance Necessary?
While the rules and laws being applied more than ever before it has become even more essential to know about the various aspects that affect an individual as an owner of a vehicle. Motorbike insurance is a major feature that you need to know about.
Apart from the fact that car insurance is instructed by the law, it is very important to understand that motorbike insurance is also the need of the hour for many reasons. However, one of the primary reasons for anyone to have bike insurance is to protect oneself from the third-party liability cost that could hamper the whole budget.
According to a survey, Pakistan is the 5th largest market for motorbikes with almost 7500 new motorbikes hitting Pakistani roads every day. Among 19 million cars, buses, trucks, and motorcycles running in Pakistan, 16 million are bikes alone. To put things in perspective, according to global village space Pakistan is 6 times larger market for motorbikes than India, which is 4 times larger than Pakistan in terms of population.
 Statistics regarding Bike Theft
According to the report by ARY News, it has been revealed that snatching and stealing of motorbike have remained higher in the last year city of Karachi only in 2020 as over 90 bikes were stolen or snatched in a month time. The incidence of bike theft topped the list of street crimes reported in Karachi city last year. According to crime statistics assembled by Citizen Police Liaison Committee (CPLC), as many as 2,546 motorbikes were stolen while 151 others were snatched at gunpoint in late last year.
Why do thieves steal bikes?
The professional thieves want to get better prices of the stolen goods, and they have more bikes to sell, so they can't use the same strategy time and again. They target more expensive bikes and often try to sell them again online to get a better price for the bike.
Let's Understand the Importance of motorbike Insurance through an Example
For example, if Mr. X while driving a motorcycle meets with misfortune and does not have motorbike insurance; then the full cost of the damage caused owing to an accident will have to take care of by Mr. X only. This means, even if there is a loss of life or the third party is badly injured in the accident, Mr. X will not only have to recompense for the destruction of his motorbike but also the legal responsibility cost towards the third party damages. However, in the same situation, if Mr. X has motorbike insurance, the entire cost of loss and third-party accountability will be taken care of by his motorbike insurance policy.
When you buy motorbike insurance, the amount you pay as the insurance premium is much less than the total sum insured.
In common driving, a motorbike is considered riskier than driving a car, because an individual on a motorcycle is more exposed to jeopardy than someone in a car. And motorbike insurance offers you risk coverage towards self-physical injury, damage/loss of the motorbike, and third-party liability.
And the money problems do not certainly end there. As terrible as it would be to lose a license, or have to pay an unreasonable fee, it would be even worse to have to take care of all the burdens that can add up as the result of a calamity. You need insurance so that the wounded person or his or her insurance company will prosecute the other person's insurance company, and not you directly.
What does a Motorbike Insurance policy cover?
The bike insurance covers you from the following risks:
Natural Disasters
Natural disasters like earthquakes, storms, etc. cannot be predicted or estimated and usually leave behind great damage to human lives and property. The bike insurance covers you financially against all these damages.
Man-Made Damages
Man-made malevolent acts like burglary, riots, or wars may take place at any given time and cause damage to the bike of the individual which is covered by bike insurance.
Accidents
Road accidents cause major physical injuries and fractures which are covered by the bike insurance. Sometimes, a misfortune can lead to an ill-fated case of partial incapacity of the body. With the bike insurance policy, you are monetarily safeguarded against any catastrophes of this kind.
Furthermore, accidents can also cause permanent incapacity like loss of vision. The bike insurance covers such disastrous cases and provides cover for the treatment too. In case of death of the policyholder, the insurance policy provides reparation to the allocated nominations of the policy.
Motorcycle Insurance Benefits & Coverage
On the discussion and points mentioned it has been understood that buying insurance does not only covers the rider and makes the individual a law-abiding citizen. Besides, this insurance helps safeguard the policyholder from financial liability on multiple fronts if you are ever in an accident. Stated are some of the benefits you will appreciate with a robust motorcycle insurance policy to safeguard the policyholder while you are riding.
Liability Coverage
If the policyholder causes damage to another individual or their property in the course of a motorcycle accident, the feature liability coverage helps you pay for the consequential costs to cover the repairs and other bike-related bills. Most insurance providers allow you to take on different types of liability coverage. While higher limits can be more expensive to buy for the policyholder, they can also be beneficial for the new motorcycle drivers or those who travel through metropolitan areas, as the probability of an accident is higher in these situations and scenarios. More experienced riders are advised that they should still carry liability insurance but may be more comfortable and contented with lower amounts of coverage.
Guest Passenger Coverage
The passengers who ride with the policyholder on their motorbike might not have good insurance coverage for themselves, putting them at risk if they are injured while being on the road. With a good motorbike insurance policy, the policyholder will not have to worry about injury and subsequent medical expenditures. Your insurance coverage can help the policyholder pay for medical bills and looking after their injuries, if required, helping them avoid financial suffering in the event of an accident.
Medical Payments & Personal Injury Protection
Insurance can help pay for the policyholder's medical expenses and provide personal injury protection in the event of an accident for even more coverage. The policyholder's medical insurance coverage will help the policyholder pay for your bills regardless of who caused the accident, helping the insured remain financially stable under all circumstances.
Optional personal injury coverage can also help pay for, lost wages, and other related expenses that policyholders may incur while recuperating from the injuries.
Collision & Comprehensive Coverage
The motorcycle that crashed into a car, heard that many times right? While property responsibility shields the costs of repairing or replacing possessions that belong to other people, accident and comprehensive coverage help pay for impairment done to the policyholder's property.
Fender-bender insurance will cover the cost to repair and replace the policyholder motorcycle if it is involved in an accident, while comprehensive coverage offers the same protections if the policyholder bike is damaged in a non-collision incident, such as a fire, storm, or even theft. Comprehensive insurance coverage will keep the policyholder's motorcycle safe even when it is parked in front of their home.
Breakdown Coverage
Motorbike insurance, sometimes also offers mechanical breakdown insurance, it is an optional type of coverage that pays for certain repairs to the policyholder motorcycle. In this way, it is related to an extended service contract that can help the policyholder repair the engine, transmission, and other repairs made at your local repair shop if the shop is not present on the insurance provider panel, compensation would be made to the policyholder.
Roadside Insurance & Towing
Being stranded on the side of the road in the middle of the road, in the event of a breakdown can be nerve-wracking. Some insurance providers offer roadside and towing insurance which helps the policyholder affordably have their motorcycle towed to the nearest mechanic shop. It also covers battery failure, flat tires, and mechanical or electrical breakdowns happening to the motorbike out of the blue, helping the policyholder to be back on the road as quickly as possible after the instance.
Most Popular Bikes in Pakistan
China  70
As commonly called, China 70, is the best-selling bike in Pakistan. China 70 is not just one bike enterprise, but a group of different companies manufacturing the same type of Honda 70 CC rip-off. These are not very dissimilar from the original version which Honda produces.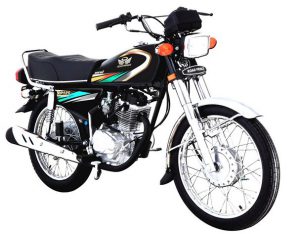 United, Hi-Speed, Xzmco, Union Star, Metro, and Ravi are all producing the same product with a different tag. The reason for China 70 popularity is the low price and the easy availability of spare parts. According to the company, they provide a great mileage of 70 km in one liter of petrol but on the ground, these bikes can pull 40-45 km, which is still decent for the price and petrol consumption. Max speed is 120 but these bikes can go max up to 100 km/h.
China 70 Price 55,500
Honda CD 70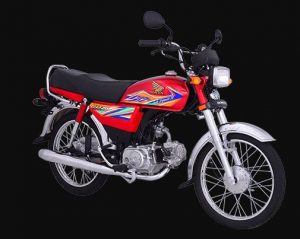 Honda CD 70 is the version of 70 CC that Chinese bikes were originally copied from. Honda is known for making durable rides and its 4-Stroke Single Cylinder Air Cooled engine can bear the brunt of Pakistani roads. Its 4-speed transmission coupled with 8-liter fuel capacity can pull 55-60 km mileage on 1 liter. Weighing at 82 kg, Honda 70 is one of the most durable bikes in Pakistan.
Honda 70 CC price is 73,900 PKR.
Honda 125
Honda 125 can simply be called "CD 70's big brother". Its 4-Stroke OHV Air-Cooled engine provides a diffident mileage of 30-35 km/l. Honda 125 has a 9.2 liters capacity in its tank with a 2 liters reserve capacity.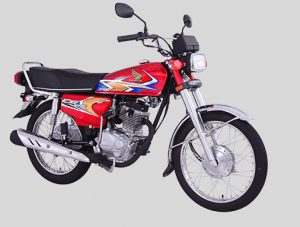 4 Speed Constant Mesh transmission pair up with 1201 mm wheelbase to provide the top speed of 110 km/h. The machine's modest weight of 99kg lets the engine perform at its best.
Honda 125's price is 125,500 PKR.
Suzuki 150
It is fast climbing on the ladder to compete with the high performers i.e. Honda and China bikes. Its attractive features are top-notch in bike body assembly that allows the rider decent speed, security, and great mileage.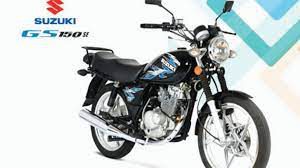 The energetic performance by its fully delivering 150 CC engine is fast becoming popular in Pakistan's youth that covets speed. Suzuki updated 150's dashboard by adding a spare dial. The electric start system adds another layer of security. Suzuki went retro with its latest addition by adding a circular headlight that adds greatly to its beauty. The Pakistani variant of GS 150 is greatly inspired by its international versions. A 5-speed gear transmission coupled with a disc brake in an entirely reasonable price range is an unbelievable competitive move by Suzuki. Suzuki 150's 4-Stroke Single Cylinder Air Cooled engine with 12-liter fuel capacity provides approximately 25 km/l.
Suzuki 150 is priced at 182,000 PKR
Yamaha YBR
Yamaha YBR  is more a trendy sports bike than a conventional bike for home-usage. With its splendid performance, sporty look, and first eye impression, Yamaha YBR is second to none in the Pakistani bike market. Yamaha breathed a new life in its almost dead company with this model which propelled it to the top. Features like fuel gauge indicator (unique to YBR), self-start, catchy dashboard, and an ultra-bright headlight add loads to its look.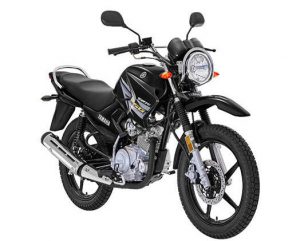 4 Stroke 125 CC OHC Air Cooled engine is a unique addition to its new model. YBR has an ultra-comfortable broad-based driver & passenger seat behind a 13-liter fuel tank which is encapsulated in a sporty superbike look. YBR is hailed as the most fuel-efficient machine Yamaha produced providing 55 km/liter on hi-octane and 40 km/liter on supreme. Its 5-speed transmission allows it to run smoothly. The modest weight of 114 KG for such a huge body allows the rider speed and style. Its road grip gives the feeling of driving a 4-Wheel drive.
Yamaha YBR's price is 147,500 PKR.
Speak To An Experienced About Motorcycle Insurance
When an individual decides to obtain a motorcycle insurance policy, a proper check about what each insurance provider offers is important. An individual should choose an insurance provider that provides comprehensive motorcycle insurance coverage. Smartchoice helps you decide with unbiased advice and offers and finds the right policy for you which offers as discussed here.
In addition to the high-quality customer service and support, You can contact them for more information about motorcycle insurance or to purchase the policy call on their UAN 021-111-212-212 or request a quote online. When you choose the right policy and coverage extents for your needs and requirements, it provides you with peace of mind on the road and the ability to recompense for any unexpected occasions that occur.
Individuals Can Now Buy bike Insurance Policy Online
Gone are the days where buying insurance used to be a pile of paperwork and a process that brought a lot of stress and hassle, with the modern technology and computerized ecosystem growing everywhere in the world and even in Pakistan. An individual can easily buy motorcycle insurance online by following a few steps. All the individual is required to do is log on to the website and fill in the details and procure the policy that suits best the individual needs.
One thing to Remember:
If you plan to buy a motorbike or you already have one! Make sure to get an insurance cover and ride responsibly too!