There are various things you can do to speed up your internet unless your Internet provider is not able to offer internet speed as advertised. One of the ways is to get a new DNS.
Domain Name System allows you to visit websites via memorable addresses instead of remembering the IP addresses of different websites that you intend to visit. DNS is an important factor to offer you a fast browsing experience. No matter your default DNS address assigned by you Internet Service Provider works well, but you can improve the browsing speed by analyzing the best DNS servers for you via utilities like DNS Benchmark and Namebench. Before analyzing the best DNS servers for your internet, we need to find out the reasons that how other DNS servers may speed up the internet browsing. The reasons to change DNS servers include
DNS server may be experiencing heavy traffic
Have a limited cache
Have invalid cache entries
Greater response time
There are several utilities that can help you to find the right DNS server for your internet via conducting different tests. These tests also take the geographical location in consideration and provide you the best DNS servers and also notifies you about the performance improvement.
Recommended Read : How to change your DNS with ease
DNS Benchmark
DNS Benchmark is a free software by Gibson Research Corporation. It is just 163KB in size and is available for Windows. It can be used on Linux and Mac OS via Wine utility. Once you download and start the software, you get a welcome screen with content that explains what is DNS and why it is used. It also explains how DNS can be used to speed up the internet. You can select the Nameservers tab from the top and click Run Benchmark to start the test. Once the test is finished you will be able to see the results that can be sorted in the fastest first order. The conclusion tab displays the errors and recommendations based on the test results. It is recommended not to use any internet service while the test is in progress because doing so may produce results that vary greatly. Click here to get DNS Benchmark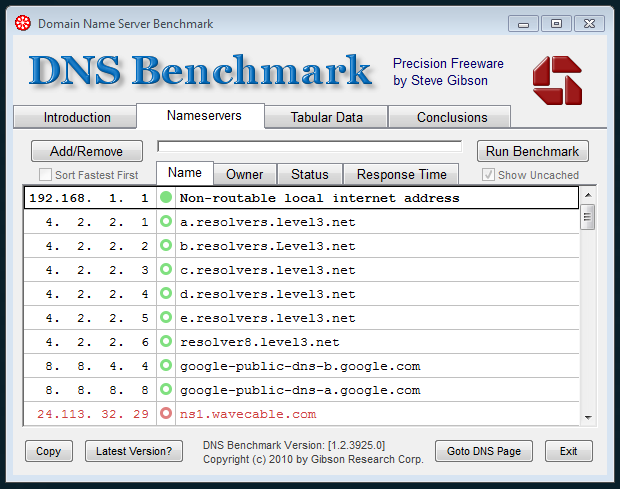 Namebench
Namebench is also a free software that to test the best DNS servers. Namebench runs fair and thorough benchmark and is available for Windows, Linux and Max OS. Namebench offers a graphical user interface as well as command line version. Once you download and extract the the software, you get a simple screen to configure the required options and start the test. You can set the location, configure data query source and set number of queries. Once the test is completed it displays the best DNS settings and the improvement percentage that the recommended DNS server will offer while browsing internet. However Namebench test is relatively slow if compared with the DNS Benchmark. Click here to download Namebench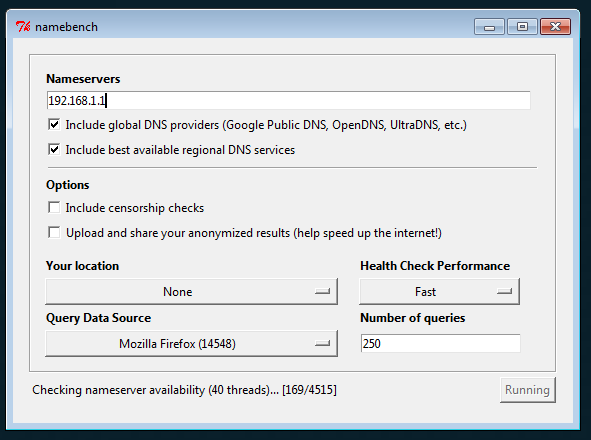 This was all about speeding up your internet by getting a better DNS server. We hope that by using above free software products you will be able to find a better DNS server that will enhance and speed up your browsing experience.
If you planning to change your internet connection, click here to compare internet prices and packages in Pakistan. To check your internet speed, click here to take this free test