Food and food lovers are probably the easiest things you can find on this planet. Every nook and corner of the world has people who are fond of eating and trying new dishes. Their love for food is not just limited to the dished from their own culture but they love to try new food items, every now and then.
Every region of the world has its own special cuisines. These cuisines are different with different tastes and recipes which makes them special in their own way. Just like many other Asian countries, the Pakistani Cuisine is also top listed in the best and most appreciated cuisines of the world.  Pakistan is a multicultural setting and thus, being in Pakistan you may try a number of Pakistani, Indian, Chinese, Continental, desserts and many other recipes. However, you will find a list of Pakistani dishes popular around the globe. You can get a vast collection of chicken, mutton, beef, fish, BBQ, desserts and sweet recipes on a Pakistani dining.
Today, we have tried to help you make a decision on your next menu with comfort. For this reason, we have gathered a list of 5 Pakistani recipes' which are loved around the globe.
 5. Mutton Kofta Curry
Mutton kofta curry is a mouthwatering dish served normally in dinners. It is cooked with ground mutton added with a combination of spice to taste.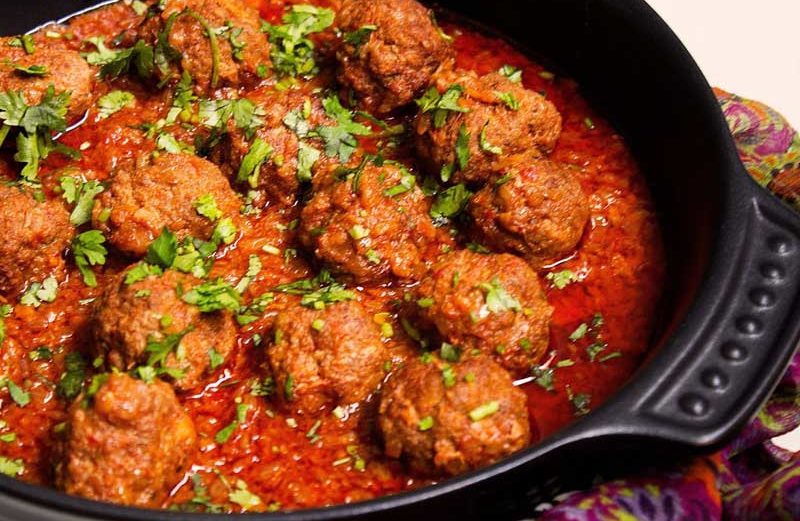 Ingredients used in Mutton Kofta are ground mutton mixed with channa to stick the ground meat together. Other ingredients added are green chilies, red chili powder, salt and minced onions. All the ingredients are mixed well and converted into small balls with bare hands. These equal sized balls are then fried and added to separately cooked curry. Boiled eggs are then added into the curry. The dish is also an essential part of a menu on any special occasion. You can also serve it with boiled rice or brown rice and it can be eaten with roti or roghni naan.
4. Shami Kebabs
Shami kebabs are patties that are considered as a must while serving any special guest. It is used in combination with other dishes like pulaow, biryani or even tea. Shami kebabs are eaten with raita (yogurt mixed with peppermint etc.) too or you can give a try to any of your favorite sauce.
Shami kebabs are made with simple mutton fillet and chaana daal cooked together in water until boiled with salt, black pepper and garam masala. The cooked recipe is then mashed in blender to make them a smooth thick paste, after that it is given a round shape with the help of hands then they are coated with egg and shallow fried in oil and served as a side dish in lunch or dinner and sometimes served with tea as a snack. It can be eaten with roti and can also be eaten with buns as a shami burger. It takes 15 minutes to cook shami kebab.
3. Haleem
Haleem, also known as Daleem, is a mixture of 4 daals (pulses) which are used as main ingredient to cook it. Haleem can be cooked in chicken as well as in mutton or beef. In Pakistan Haleem is a famous dish. Beef Haleem is mostly cooked in the Holy month of Muharram in large quantity to serves masses. Ingredients use in making haleem are 4 different pulses such as channa daal, daal mash, daal moong masoor, all these pulses are soaked overnight before cooking.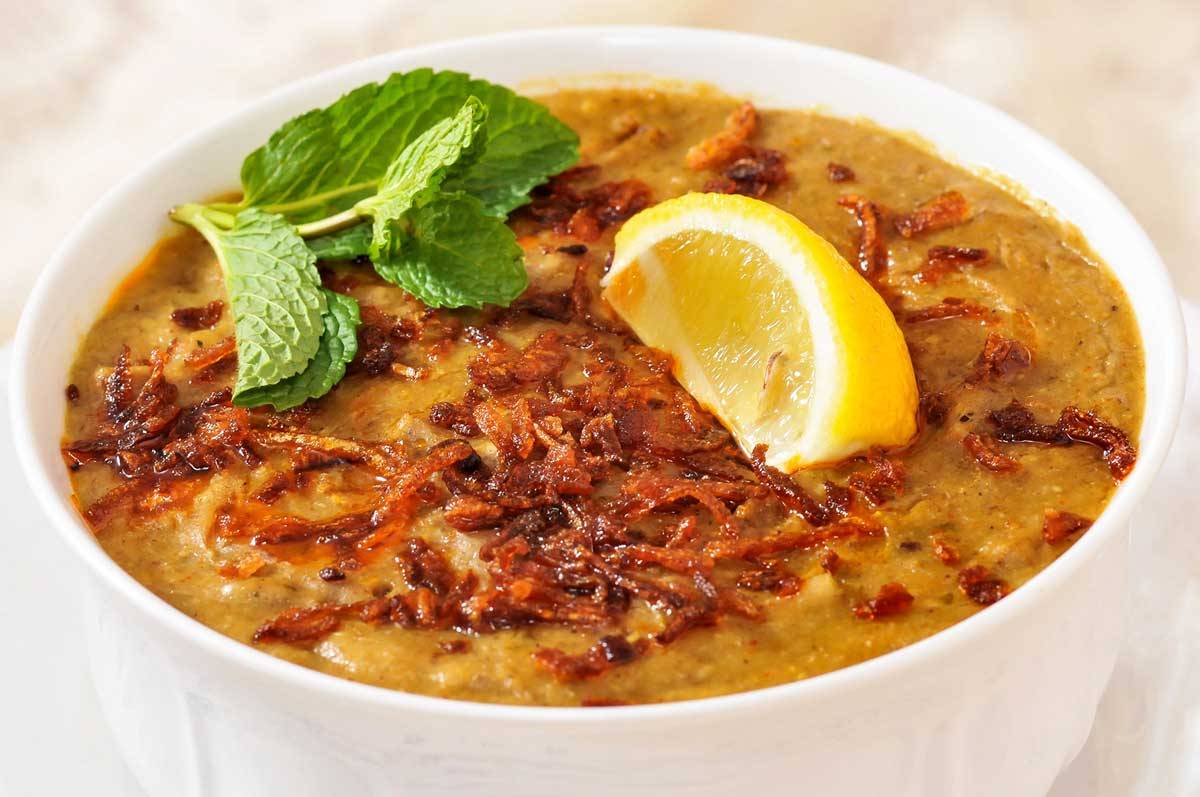 Meat  is the main ingredient while spice (masala) used in Haleem includes; salt, red chili, black pepper, and turmeric (huldi). Onions and crushed ginger with lemon are used for garnishing. People in Pakistan eat naan (a special kind of bread) with haleem in breakfast too. It is considered as a special breakfast menu. You can also find this dish in Pakistani restaurants, around the globe.
2. Karahi
Karahi is also one of the elite and appreciated dishes from Pakistan.  Just like Biryani, you can make chicken karahi, mutton or beef karahi as per your taste. It is also known as gosht karai as it is cooked with goat or lamb.
Karahi is originated from the Indian subcontinent. It is famous cuisine among Pakistanis and North Indians. Karahi is famous for its spices. The specialty of cooking Karahi is that mutton gravy is cooked in kadai (WOK). To enhance its taste, ingredients are not overcooked or mashed and this is what is considered to be the specialty of this dish. This gravy is different from other gravies as it is a thick paste of ingredients and no water is added into it. The very main ingredients of dish include tomatoes, onions, green chilies, ginger paste, lemon, black pepper, and red chili powder. It takes 30 to 50 minutes to cook Karahi.
In Pakistan, it is consumed on daily basis. If you are a special guest in Pakistan, or a Pakistani family living abroad, you will surely be served with Karahi at least once on your trip. We are sure that you will love eating it.  Now a day's instant masalas are available in the market for ease. Imprinted with the recipes', you can give a try to Karahi in your own kitchen as well.
1. Biryani
Biryani, also written as Biriani, is one of the most favorite dishes in Pakistan. Pointing out the exact origin of biryani is difficult but, believed is that it is a dish of Muslim centres of Delhi and Lucknow.
Biryani is a dish made of spicy rice, cooked in a south Asian way with a comprehensive amount of spice including bay leaf or tez patta, saunf or fennel seeds, biryani flowers, green cardamom or eliachi, peppercorn or kali mirch, cinnamon or darcheeni, clovers or lavang, coriander seed or dhaniya, shahi zeera, mace flowers or flowers of javitri, jaifal or grated nutmeg, kal passi or dagad phool. All these ingredients are cooked with meat (you can choose any of mutton, beef or chicken).
Other ingredients which are commonly used in biryani are onions, tomatoes, salt, red chili powder, special biryani masala, yogurt ginger garlic paste, allu bukhara to make meat masala.
This spicy rice is different in cooking as compared to other rice such as mutton pulaow, channa pulaow, or matter pulaow. Recipe of Biryani is easy to understand. It carries three steps:
1) Cook meat masala
2) Boil rice
3) Dum (steaming) of rice and meat masala.
Sounds spicy? Is your mouth watering now? You can check the local restaurants, if you are out of Pakistan, there would be options that can serve you the taste of Pakistani Biryani, even being out of Pakistan.