So you know what we are all – Broadband and Internet in Pakistan – and we keep a close eye on trends and see how things are shaping up with respect to Broadband uptake and penetration in the country.
Telecom indicators, as published by the Pakistan Telecommunication Authority (PTA), have shown remarkable increase in the number of broadband subscribers – month by month – over the past two years across all sorts of broadband technologies – wired or wireless.
In 2011, for example, total number of broadband subscribers in Pakistan stood at 0.9 Million and jumped close to 2.0 Million by the end of 2012. These trends were exciting – we know how the Internet has help develop countries and societies across the globe – and we know internet awareness will play a powerful role in the development and progress in Pakistan too.
We ran a quick analysis, threw in some number crunching, and have expect broadband growth to stand at 64 percent by the end of 2014 – with broadband subscribers to cross 4.2 Million by the end of this year. This is rapid growth and the momentum just seems to be increasing with every month. Our extrapolation is based on the existing trend.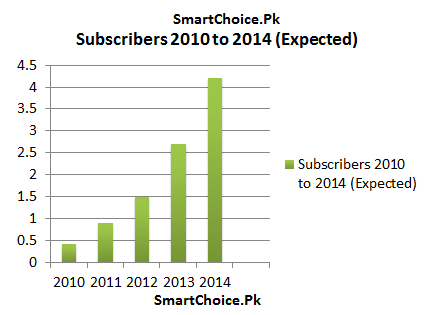 The graph above shows a year on year (Y-o-Y) comparison of how broadband penetration has grown in Pakistan. We have already written about how the internet is instrumental in the social uplift of societies and countries and we expect good things to come our way in the days to come.
Feel free to share your comments and feedback with us below!