Studying abroad is important for students to consider as it offers a chance to experience different styles of education. A study abroad program helps students in experiencing a different side of their major that they might not have been exposed to at home.
Education is core factor of a study abroad trip and choosing the right place to learn is an important factor.
How Foreign Education Helps?
1. Job
Studying abroad surely helps to attract future employers. Students can even apply for a job in your host country. Employers search for students who have studied abroad because of their diverse experiences and education.
2. Career
Studying abroad really helps students to find their independent nature; it is an opportunity to discover you all the while gaining an understanding of a different culture and language.
In U.S.A and some European countries, educational institutes do not require one specific focus, and students are constantly encouraged to study different subjects before settling down for a particular career. If somebody has chosen their career path already, then they should certainly look into British universities.
3. Higher education
Like future employers, graduate and post-graduate school admission boards also prefer students who have study abroad experiences. Students who opt for studies abroad are considered to be more curious and acquire the educational acumen to be a leader in graduate school.
What to consider when applying at international university?
1. Admission requirements
The first factor to check is the admission requirements of your chosen country and institution. Students must meet minimum requirements set by their chosen universities. Meeting these entrance requirements does not equate to an easy admission. Numerous factors are looked upon such as extracurricular activities, and academic progress.
Usually universities of different countries are looking for different qualities in students.
2. Finding the right fit
With various options, your first priority has to be yourself. Find the best place for you which will keep your board and travel expenses to a minimum.
Visas, flight expenses, room and food expenses usually amount to more than the expenses of your education.
5 popular countries for Pakistani students to study abroad
1. United Kingdom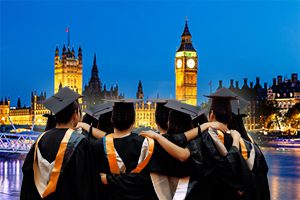 England is ideal for Pakistani students since English is spoken everywhere there; Pakistani students learn English as their second language and are more comfortable there. UK also has a comfortable and friendly campus experience, they provide ample opportunity to students to be more independent.
In the UK, a centralized process is operated by the Universities and Colleges Admissions Service. They require students to meet minimum entrance requirements along with a personal statement and academic references. The Ucas allows most students to apply for up to five courses.
Many UK universities offer effective scholarship programs for Pakistani and other international students, these include:
Sheffield University Scholarship offers a full (100% discount) or half fee waiver,50%
University of the West of Scotland International Scholarship
The University of Edinburgh Global Masters scholarship
University of Leeds program for International Science and Engineering Undergraduate Scholarship
Newcastle University School of Electrical and Electronic Engineering Overseas Scholarship
University of Glasgow Scholarship for School of Computing Science
The Charles Wallace Open Visiting Fellowships also grants scholarship to enable Pakistani students to complete their Courses in short UK visits. The scholarship is awarded to particular subjects such as Humanities, Social Sciences, Health Sciences etc, and the award holders will receive £1,400 per month.
The UK is slightly expensive but there are a lot of scholarships for young students to choose from.
2. Germany

Germany is a great place to study business, hard sciences, and German (natürlich).
It boasts of courses with the most modern technical studies. It can also be the option as a huge number of academic internships are available for students. Their education system is quite efficient and students usually find it helpful in a different country, away from home.
Germany has become a popular destination for foreign students looking for an international education. Germany universities offer internationally recognized programs at a relatively cheaper cost compare to UK, USA or Australia.
A significant number of scholarships are available that allow foreign students to study in Germany for free. In Germany the federal states, with the exception of a few, do not have any tuition fee. Universities in Germany are a part of various study programs which are funded by Erasmus Mundus Scholarships. The scholarship allows international students to participate in this study program for free.
Knowledge of German is recommended, and required by many institutes. Although most offer German language courses and many courses are taught in English.
3. Australia

Australia is home to some of the best universities which offer almost every major, but it remains a good option for students who are interested in business, humanities, and the science fields. Unlike the UK, you can apply for up to nine courses in Australia.
​The Australia Awards are prestigious international Scholarships and Fellowships funded by the Australian Government. The Scholarships are long term development awards offered by the Department of Foreign Affairs and Trade. These scholarships provide opportunities, particularly to the countries located in the Indo-Pacific region, for undergraduate or postgraduate study in Australian universities and Technical and Further Education institutions.
In Australia, the Universities Admissions Centre (UAC) covers most universities in New South Wales and the Australian Capital Territory (ACT).
4. China

Students flock to study in cities like Beijing, Shanghai, and Hong Kong for the competitive advantage it will bring to their resumes. China has the third largest population of international students after UK and USA, moreover students have lots of universities to choose from as they have a growing reputation. China is also quite eminent for studying abroad as it has a wide range of funding opportunities. Studying in China will have its perks as it's a rising power and one can prove their readiness for the global workplace.
Embassy of the People's Republic of China in the Islamic Republic of Pakistan has authorized the Ministry of Inter-provincial coordination, Government of Pakistan to accept applications for the Chinese Government Scholarship. this scholarship is open for bachelors, Masters, PHD and Short Term Programs. The Embassy of the People's Republic of China in the Islamic Republic of Pakistan does not entertain individual applications, and all documents have to be submitted to the Ministry of Inter-provincial coordination, Government of Pakistan.
You will also be able to see first-hand how intricately China is involved in the global market.
5. U.S.A

US universities, value an entrepreneurial mindset, and endow students with the ability to work in groups. Accommodations in the US are given on an annual basis. In the US, there is a decentralized system. Each university has to be applied to individually and can establish their own set of values and requirements. Most of the universities in the US are known for having high standards to test the ability of their applicants and then providing them with the best placement offer according to their capacity. Pakistani students can apply for scholarships like Fulbright with the help of which they can fulfill their dreams of higher studies. Most universities require at least a personal statement. The decentralized system allows students to apply to as many universities as they like. Keep in mind that in the US, you have to pay for each application.
HEC offers scholarships for Masters and PhD, with prerequisites like GRA, SAT, GMAT, TOEFL etc. The Fulbright program is originally USA program offered for different countries. They have offices in many countries including Pakistan, and work together to fund and send students to USA. Fulbright is one of the best scholarship program available for Pakistani students.
US degrees have a world class reputation which makes it even more attractive place to study and easy as well because US universities provide lots of support facilities to students.
Conclusion
Studying abroad has perks and privileges of its own where one has the chance of studying in a foreign country and being at par with the world. It also offers students exposure and confidence which is profoundly regarded when stepping into practical life. Studying abroad helps a student to grow to fruition in the most modern ways possible, of how the world is progressing and this allows students to find better jobs. A foreign student being a product of cultural diversity is more likely to be in demand because he is well acquainted with the contemporary world.