SmartChoice.pk recently acquired Zong's 4G Mobile MiFi device to test its effectiveness and performance of Zong's 3G/4G broadband service. To share our experience with readers we have done a full video unboxing and review of this Zong 4G device which has been rather impressive.
Device Unboxing & Review 
Zong MiFi Unboxing Uploaded on Youtube
Uploaded on vimeo
How to order this device on Smartchoice.pk
– Simply fill the order form here
– Smartchoice representative will get in touch with you for order confirmation of Zong internet device
– The device will be delivered at your doorstep
Smartchoice.pk is a full price comparison website for home and mobile broadband, if you looking for any new connection or service, check our website www.smartchoice.pk for comparison. For any help, call us on 0331 – 762 7888
Zong 4G MiFi Device Activation & Biometric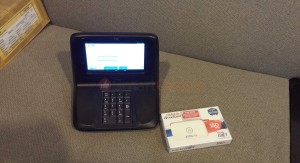 The salesman brought biometric thumb verification device that took a couple of minutes to load. It came with two sims (broadband and voice) and both required separate verifications (one person cannot verify both sims right away since there is a delay of a couple of hours before the CNIC becomes valid for second verification). Within minutes the broadband sim was verified and ready to use in device. Zong 4G device price is PKR 3000
We ordered the following package:
Device = Zong Super 4G (prepaid)
Rent = Rs. 1,500
Validity = 1 month
Data Cap = 24 GB
Special Offer = Double Volume this Eid (both new and existing customers), if device is ordered and activated by 15 August 2015
The packaging was strong and took some effort to open. The device is quite handy and easy to use. We inserted the broadband sim and turned it on (we had place the mini sim but it is recommended to insert sim with full jacket). The device worked well and was easy to setup, as the following video is going to show.
Packages
Zong MiFi comes with the following Zong WiFi packages that can be subscribed by the user:
| | | |
| --- | --- | --- |
| Bundle | Price (inclusive of taxes) | Validity |
| Monthly 24 GB* | Rs. 1,500 | 1 Month |
| Monthly 50 GB | Rs. 2,000 | 1 Month |
| Monthly 100 GB | Rs. 3,800 | 1 Month |
| Monthly 150 GB | Rs. 5,000 | 1 Month |
| Monthly 200 GB | Rs. 6,000 | 1 Month |
*Not available for subscription at the time of purchase.
Accessories & Instructions
The device came with two sims and one data cable. It was fairly easy to use and instructions were clear. Once attached, you only need to login to Zong's dashboard on the IP 192.168.8.1 and access details. The ID & Password are by default 'admin' and it is recommended to change them right after your first login.
Performance
The device connects with Zong 4G service and falls back to 3G when the connection is not stable or 4G service is not available. The range is quite good as well and our devices were able to connect across the office. Our smartphones registered one signal out of four across two walls over a distance of 10 meters, providing the WiFi signals are strong even if not as strong as a proper router. It is possible to force the device to not use 4G services and limit itself to 3G and 2G, though 2G is not much useful (as our highway experience told us) since we could barely receive and send WhatsApp messages.
Despite high bandwidth the performance remained a bit unstable. Although we easily experienced download speed up to 300 kbps for various files, we decided to test it out through torrents. The two movies, each 1 GB, that we downloaded one after the other experienced fluctuations. Hovering around 50 kbps, the speed would rise up to 300 and fall back to 100 regularly, finally increasing up to 1.3 Megabytes per second. Within one hour we downloaded the two movies.
The Zong 4G MiFi device is not only mobile broadband cloud but can also function as WiFi Extender. If you do not wish to use mobile broadband and receiving weak WiFi signals at home/office, simply put the device on WiFi extender role and place it to best catch and relay signals. The battery life has been decent and we have used the device for few hours constantly without the need for recharge. On Zong's website the device usage time is listed 6 hours and standby time is 300 hours, which seems believable if the climate is cool. In our tests in hot climate in interior Sindh with temperatures up to 44 degrees, the device battery reduced the more we used it constantly. The device would also get so hot that we feared it might get damaged, so we regularly rested it and preferred using during cooler times of the day or in A/C cooled rooms.
Huawei App
Huawei offers a special Mobile WiFi app that is available on Android. Once you indicate your package and data limit on the main dashboard, the Huawei's app (when connected to Zong's device through WiFi) instantly displays remaining data, device battery, messages received and perform a number of settings such as activating WiFi extender or switch to 5 GHz network from 2.4 GHz (the latter has longer range and former has more stable connection).
The app is very handy as it not only prominently displays remaining bandwidth but you can use it to check signal strength and find out if the device is connected to 4G, 3G or 2G service. With a simple slider, you can turn off "Support LTE Network" to force the device to ignore 4G services and limit itself to 3G and 2G.
Coverage (This is developing section)
Our office at Bahadurabad suffered from unstable 4G signals. We received 1 to 4 signals, speed ranging from 5 Mbps to 9 Mbps. At Sindhi Muslim we experienced full signals, download speed as high as 27 Mbps. During Eid holidays we tested the device at various locations inside and outside Karachi such as Hyderabad/Jam Shoro (near Sindh University), Larkana and Sukkur.
When traveling, we lost 3G signals about 40 kilometers away from Karachi, somewhere between Bahria Town and DHA City. Device registered 3G signals about 100 kilometers later (140 km away from Karachi) that cover Hyderabad and Jam Shoro region. In Larkana and Sukkur we experienced only 3G signals with incredibly high speed.
There are two possible reasons for high speed experienced at Larkana and Sukkur despite no 4G coverage:
Paktel had an incredibly thorough network coverage in interior Sindh but weaker in urban region. Due to lack of high rise buildings, signals are easily caught and Zong is able to maximize 3G coverage without much effort
The load on Zong's mobile internet is very low, making it possible for us to experience very high download speeds
We will be testing performance at other areas and post results.
Speed test results
Area = Download/Upload (highest speed experienced)
Bahadurabad = 11.23 Mbps/9.25 Mbps
PECHS Block 3, 2 and 6= 26.79 Mbps/9.42 Mbps
DHA #6 (Darakshan Villas) = 2.51 Mbps/0.78 Mbps
Khayaban-E-Ittehad (various points) = 5 Mbps on average
Shara E Faisal (various points) = 4-7 Mbps on average
Awami Markaz = 8.87 Mbps/3.25 Mbps
Malir (various points around Airport) = 16-19 Mbps
Tool Plaza = 19 Mbps/3.72 Mbps
Bahria Town (highway) = 18.17 Mbps/4.05 Mbps
Larkana District (highway, near Police Training School) = 17.86 Mbps/3.74Mbps
Waleed (Larkana) = 27.24 Mbps/2.75 Mbps
Sukkur (IBA Sukkur) = 22.83 Mbps/4.44 Mbps
Hyderabad/Jam Shoro (Sindh University) = 15.41 Mbps/2.42 Mbps
Tool Plaza near Hyderabad = 14.38 Mbps/3.73 Mbps
So should you buy this device?
This device is certainly worth the money, given the speed it offers and the coverage area which allows you to use this device as a true mobile broadband. If you are looking to buy this device for home use, please make sure that you have a good router which supports USB because you cannot rely on the Wifi capability of Zong Mifi as it is built to support wireless devices closer to the device. Overall it is highly recommended for personal or home usage with multiple users. One more thing to keep in mind is that this device has a capped data limit hence those people who are hardcore users should look elsewhere because Zong WiFi packages have fixed tiers of data volume and a person needs to decide first which package to go for thus the whole concept of unlimited internet doesn't apply on Zong 4G device because users might end up subscribing to a higher tier package but not using it and thus it could be a waste of money.
Biometric Pictures
How to order this device on Smartchoice.pk
– Fill the order form here
– Smartchoice representative will get in touch with you for order confirmation
– The device will be delivered at your doorstep
Smartchoice.pk is a full price comparison website for home and mobile broadband, if you looking for any new connection or service, check our website www.smartchoice.pk to compare and order online. For any help, call us on 0331 – 762 7888